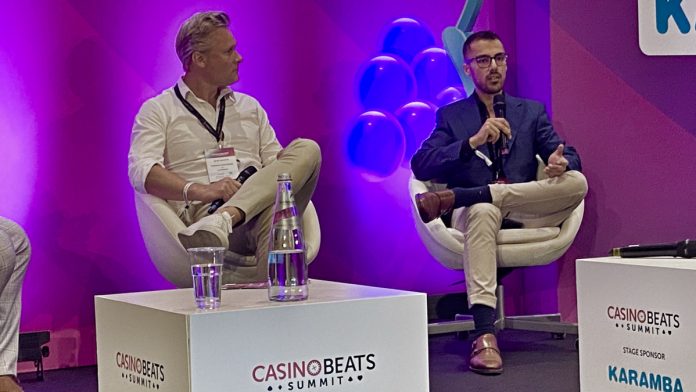 The merging of the video game and slots genres was up for lively discussion during this week's CasinoBeats Summit in Malta, with a panel of industry experts focusing on issues including gamification and popular game features like loot boxes.
Taking their places on the panel were Robert Andersson, CEO of Acroud; Luckbox CEO Thomas Rosander; and Entain's Head of Gaming Entertainment Matthias Ciappara, with CasinoBeats Senior Journalist James Ross moderating.
Kicking off proceedings, Ciappara noted that video gaming does have an influential role to play in slot design, but added that there isn't yet enough interactivity. Andersson offered the view that one of the big challenges is that "we are trying to get influences from something that is so complex as a game. Trying to apply a storyline to a slot is kind of like squeezing a golf ball through a hose pipe".
Rosander added the view that it's "impossible not to be influenced by video gaming today", but warned that instead of "plastering it onto" slots, the process has to start with a story and a narrative. "We haven't done that," he said. "And I know there's going to be gaming designers who are angry with me for saying this, but it is the truth."
With loot boxes now so deeply ingrained within video game culture and a natural shoo-in for slot game design, the panellists were asked how they are perceived in the industry and if they are a gambling product in their own right.
Rosander responded: "I'm the CEO for a company called Luckbox, so you can see where that is going! Is that (loot box) gambling or isn't it? I think it is gambling. And I think it's fine – gambling is a natural part of the world.
"Sometimes I joke when I say it's the second-oldest business in the world." Ciappara was in agreement, using the analogy that crossing the street is, in itself, a gamble and a part of human nature.
The general takeaway from the panel discussion was that more needs to be learned about the true definition of gamification within the slot genre and how it should be correctly integrated. The panellists were also keen to emphasise that taking something as complex as a video game storyline and narrative is going to be a far from simple process.