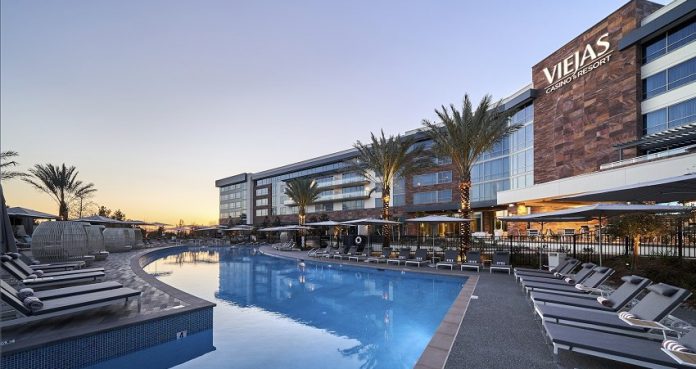 San Diego's Viejas Casino and Resort has announced the completion of its arduous seven year renovation and expansion project, complete with an all new high limit gaming area.
Also forming part of the newly enhanced Viejas is the construction of three hotel towers, new and extensive centre bar and completely redesigned property, with completion of the scheme following the recent opening of its sister property, the adult-only destination Willows Hotel and Spa.
Regarding it's all new gaming area, resort owners the Viejas Band of Kumeyaay Indians claim in a media statement to have upped the ante: "The 15,415-square-foot high limit gaming area includes more than 80 new slots and poker machines, and eight exclusive high limit table games.
"Created for those looking for an exclusive high-stakes wagering experience, the high limit gaming area at Viejas Casino & Resort is now the most expansive and exclusive in the market".
Furthermore, a new 1900 square foot, 360-degree centre bar features a plethora of television screens and 50 gaming machines, with the grand opening of the third of final hotel tower set to host patrons of its neighbouring property.
Robert Welch Jr, chairman of the Viejas Band of Kumeyaay Indians and Viejas Casino and Resort, explained: "We're thrilled to see the entire property come together and are proud of all the incredible improvements. It took seven years to bring our vision to reality and create a truly remarkable casino and resort, where our guests can enjoy all the new offerings and amenities.
"The expansion also connects us to a broader audience because we now have something luxurious and exciting for everyone to enjoy, be it adults who love gaming, to young couples who enjoy spending time at a high-end pool, or families looking for an all-day or weekend destination.
"Our new centre bar, which is the biggest in the San Diego area, will be a popular meet up point in the casino. We're looking forward to having our guests finally experience it."
In celebration a series of events are to be held during a grand opening weekend (October 19-21), featuring giveaways of more than $250,000 in cash and prizes including a Mercedes-Benz convertible, circus performances, a fireworks show, live music and small bites from all six of the restaurants on property.