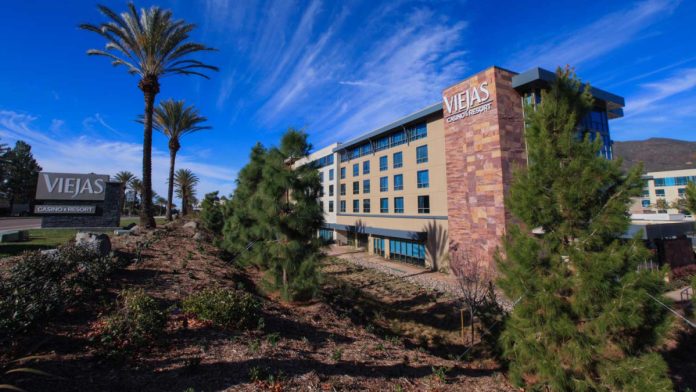 San Diego's Viejas Casino & Resort has elaborated on what is hailed as a "groundbreaking" alliance after teaming-up with OPTX amid an ambition of raising the player experience to new heights.
This will also see the Las Vegas-based casino data software provider, which adopts a focus on analysing complex data to provide real-time insights and recommendations to casino operators, swell its network further still.
Brooke Fiumara, OPTX co-CEO, said: "Casino leaders are seeking a single platform solution that doesn't just present data, it provides the functionality for operators to use it. 
"OPTX's trailblazing AI features distil raw data into actionable insights and recommendations. We are excited for the Viejas team to experience the OPTX advantage."
The partnership has seen Viejas adopt OPTX's slots, slots AI, slot dispatch, player development, player development AI and connect solutions
Jim Wild, General Manager of Viejas, commented: "OPTX and Viejas are the perfect partners. Our dedicated team is constantly seeking forward-thinking products to increase our profitability, performance and relationships with our guests. 
"This partnership with OPTX will allow us to optimise our casino floor with continuous slot change recommendations, player insights, and visualisations culminating with increased revenue opportunities."
OPTX provides an end-to-end solution focused on slots, marketing and campaigns, player development and artificial intelligence, which are available via desktop and mobile applications.
The data intelligence used creates actionable recommendations for casino operators, provides real-time individualised insights in a bid to ensure that no actionable player is missed, and looks to empower teams to spend less time compiling data and more time implementing strategies that increase guest visitation, revenue and profitability.
Erich Hans, Viejas Chief Financial Officer of OPTX, stated: OPTX will bring operational efficiency and additional business agility via an intuitive, streamlined, single system for multiple departments. 
"Being able to replace multiple operational systems with one integrated platform is exactly what we needed to make the intelligent and rapid decisions the fast-paced gaming industry requires."
Among the offerings on display at the gaming venue are approximately 2,500 slots, a collection of table games, bingo and slot parlour and an off-track betting lounge .
Dennis Woods, Vice President of Slot Operations at Viejas, added: "OPTX dispatch is the leading technology in the marketplace, providing an integrated solution for automated and real-time dispatching of events via web and mobile devices. It'll transform the day-to-day operations of our entire slot team."