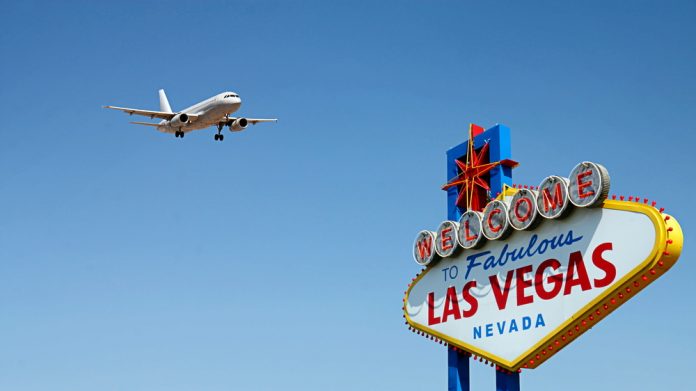 Las Vegas casino owner and developer Derek Stevens is aiming to 'Keep America Flying' after announcing plans to give away more than 1,000 free flights to Las Vegas from more than 20 major US cities.
Stevens is set to reopen his own Fremont Street Experience properties The D Las Vegas and Golden Gate Hotel & Casino on June 4, under phase two of the Nevada United: Roadmap to Recovery plan from Governor Steve Sisolak.
The 'Keep America Flying' promotion is intended to help stimulate the tourism and airline industries "while reminding the country of the fun to be had in Las Vegas". 
Participants could book a seat by signing up at theD.com on a first come, first serve basis, however the site now stipulates that all available options have been filled. 
Participating cities include Denver, Minneapolis, Dallas, Phoenix, Chicago, San Francisco, San Diego and many more via Allegiant, Frontier Airlines, Southwest Airlines, Spirit Airlines and Sun Country Airlines.
All participants in the 'Keep America Flying' promotion must be at least 21 years of age. Flight recipients are responsible for return flights, hotel accommodations and all additional costs associated with their stay, including cancellations and/or rescheduling.
"As we begin to reopen our doors across the city, we are proud to help reinvigorate travel to Las Vegas while supporting airlines in America impacted by the COVID-19 crisis," said Stevens. 
"We can't wait to safely bring visitors to the city and remind them why we've earned the title of 'Entertainment Capital of the World.' 
"And while we'd love for visitors to stop by Downtown Las Vegas, we primarily want to get people back to Las Vegas to experience the attractions and amenities that make it one of the greatest places on Earth."
Stevens is set to add to his downtown Las Vegas footprint later this year with Circa Resort and Casino, a 1.25 million-square-foot, 777-room property that will stand as the tallest structure north of the Las Vegas strip, and will house a two-story casino that contains 1,360 slot machines and 49 table games. 
Circa is downtown's first such entity to be built from the ground up in over three decades and has previously stipulated a December 2020 opening.