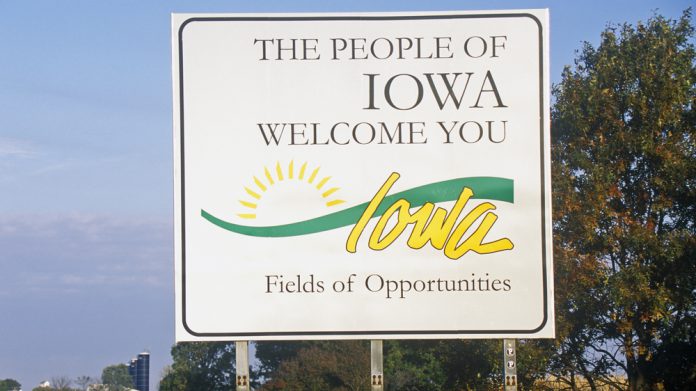 Iowa saw its sports betting volume drop for the second consecutive month through May, falling some distance behind the peak which was reached just two months earlier. 
Analysts warn that the latest slide for the Hawkeye State is a reminder that it likely won't be until the NFL season gets underway before the region's sports betting industry sees significant growth again.
Bettors placed $114.9m in wagers at Iowa sportsbooks in May, which is down 2.9 per cent from the $118.4m in bets generated in April, and well short of the record $161.4m from March. Betting fell to $3.7m per day over the 31 days in May from $3.9m over the 30 days in April.
Net operator revenue reached $6.1m in May, down from the $7.7m recorded one month earlier. That resulted in $414,175 in tax revenue. $99.9m in bets were made online, representing 87 per cent of the state's overall handle. Retail betting accounted for the remaining $15m, up from $13.8m.
"There is no avoiding a summer slowdown, but Iowa's sportsbooks are in a remarkably better position than this time last year when there was still so much uncertainty," said Jessica Welman, analyst for PlayIA.com. 
"Sportsbooks will continue to be innovative this summer in an effort to keep bettors engaged with the remaining NBA season, baseball, and other sports, including the Olympics. Contrast that to last summer when most were in survival mode."
William Hill, which partners with six Iowa casinos, led the market again with $37.6m in wagers, including $35.3m in online wagers. William Hill's combined retail and online handle was down from $39.1m in April and produced $1.1m in net receipts.
Wild Rose, which includes DraftKings and BetRivers, was second with $33.8m in online and retail wagering, which is down from $34.6m in April. $33.5m of those bets were made online. Wild Rose took $1.4m in net receipts.
Fuelled by FanDuel and BetMGM, Diamond Jo took in $27.6m in combined wagers, which included $24.3m in online wagering. The combined bets led to $2.5m in net receipts.
"New operators will be pushing to launch ahead of football season, which will shake up the market a bit," Welman added. "But for the moment, it appears the market leaders in Iowa are entrenched."