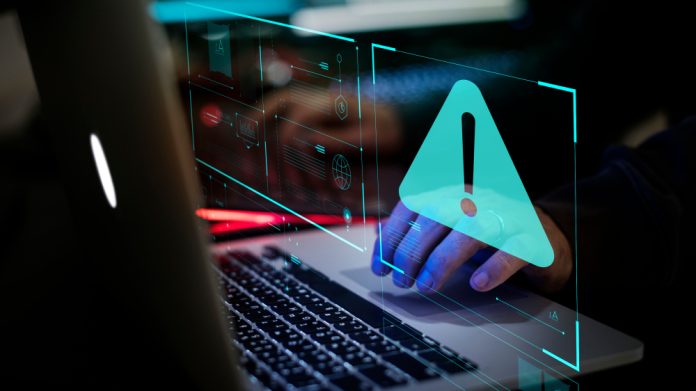 GeoComply has suggested that data collected provides "compelling evidence" that Ontario's regulated market is attracting attention from around the world. 
This follows iGaming Ontario providing a one-year anniversary breakdown that highlighted that the province delivered $46.5bn in total wagers and approximately $1.4bn in total gaming revenue during its maiden 12 months.
The fraud prevention and cybersecurity solutions provider revealed that more than 744,000 users from around the world attempted to log in 19.9 million times to Ontario operators since the market debuted on April 4, 2022.
Data collected by the group also highlighted that over 54,000 users from within the US attempted to log in 305,000 times to Ontario operators.
In addition, in excess of 3.3 million location spoofing attempts into the province's operators also occurred from around the world.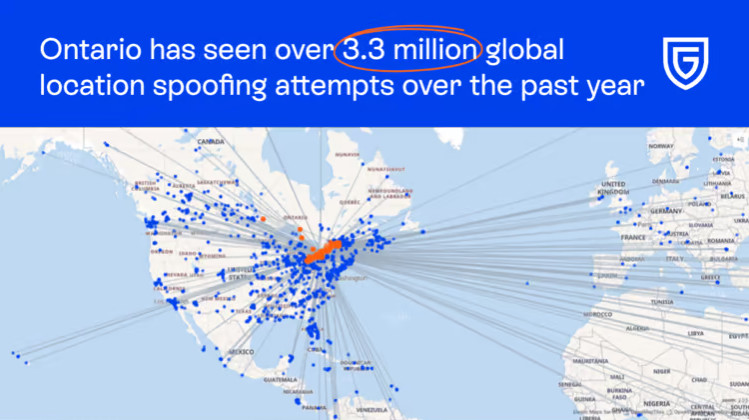 Danny DiRienzo, GeoComply Director of Risk Services, commented, "Online fraud is not uniquely a sports betting or igaming problem. Recent data shows that cybercrimes were up 50 per cent in 2022 across all forms of e-commerce. 
"However, our industry's high standards of compliance put us in a strong position to combat it. Because every bettor must verify their location, we have the data to stop fraud before it gets a foothold."
The information studied also demonstrated that it's not all a case of basking in the glory of a maiden 12 months, with the market gaining the unwanted attention from fraudsters.
Operator customer data demonstrated that over 219,000 devices have been prevented from gambling for fraud reasons, with 1,045 fraud rings affecting multiple operators detected.
The fraud attempts, said GeoComply, mostly concerned identity theft and bonus abuse, with some account takeovers and credit card chargebacks.
The company added that its services prevented over 127,000 devices known to be associated with fraud, 56,000 with multiple users, 34,000 using illicit software and almost 1,500 that had been jailbroken or tampered with, from infiltrating the regulated market.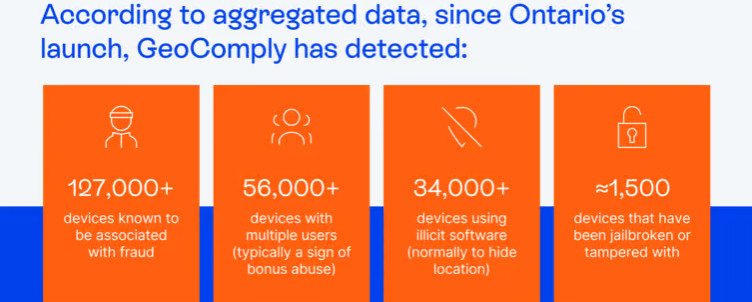 "Ontario is such a large market and the opening of any market results in bonus offerings attracting fraudsters," added DiRienzo.
"This, coupled with the traditional gray market operations in Canada, resulted in experienced fraudsters hunting bonuses from day one, as anyone with a set of stolen identities could collect bonuses from several operators.
"GeoComply remains vigilant alongside our operator partners. During the last 90 days, a third of GeoComply's fraud investigations have involved Ontario operators, despite Ontario accounting for far less than a third of our overall traffic.
"The investigations have affected most Ontario operators, so fraudsters are targeting almost everybody."