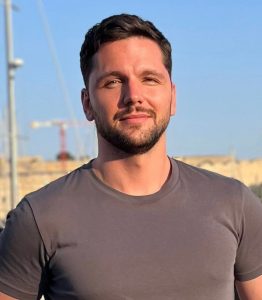 Coming up with new ways to engage with casino players is no easy task. We're seeing more companies add new gamification features, new mechanics and – in some instances – new tournaments to elevate the player experience.
Evoplay has been one such company to venture down the route of tournaments, but this time, with a summer feel.
Anton Gyria, Head of Account Management at Evoplay (pictured, right), spoke with CasinoBeats about the launch of the Endless Summer Network Tournament and the need to be proactive when coming up with engagement strategies.
CasinoBeats: Congratulations on Evoplay's launch of its Endless Summer Network Tournament! Can you talk us through your plans and the scorching prizes?
AG: We're very excited to be launching our Endless Summer Network Tournament here at Evoplay. It's been a lot of hard work, and our team is really looking forward to rolling it out given we meticulously planned out the series of tournaments, all of which are themed around the vibrant mood of summer.
Speaking about our plans, we wanted to make sure our players truly feel that unique summer atmosphere, no matter where they might be. With that in mind, we've carefully selected games that are relevant and carry that summertime feel. From the sound of waves crashing to the visuals of sun-soaked landscapes, we aim to transport our players to an endless summer experience.
Of course, we also wanted to make this event enticing and rewarding for our users. That's why we've significantly increased our prize pool to €120,000 – spread out across a trio of engagement-boosting tournaments, making the competition not just fun but potentially very rewarding.
We hope that the combination of the unique gaming experience and the chance to win big prizes will be a compelling draw for both our existing users and those considering joining the Evoplay community.
CasinoBeats: What games are going to be on offer, and where will the tournaments be available?
AG: Our three tournaments will showcase different games, offering a wide variety of themes and gameplay styles to users, and it is all tied together with our captivating summer theme.
Some of the most notable games that participants can look forward to, include Hot Rio Nights, which brings the energy of Brazilian samba to life, Hot Volcano with its fiery eruptions and dramatic features, and Inner Fire, a game that truly epitomises the scorching spirit of summer.
Additionally, we're featuring Hot Triple Sevens, a classic slot with a twist that we believe our players will thoroughly enjoy. Finally, we'll also be introducing Mega Greatest Catch to the tournament, a game that pairs the thrill of a big catch with the relaxing atmosphere of a summer fishing trip.
As for the availability of the tournaments, they are open to all partners that have our content on their platforms. We are excited to say that all our partners are eligible to participate – they just need to notify us. It's an inclusive and accessible event designed to bring the endless summer experience to the screens of our players and partners around the world!
CasinoBeats: How key do you think a proactive approach like this to marketing is for studios in today's market?
AG: In today's dynamic and highly competitive market, adopting a proactive approach to marketing is absolutely essential for studios like ours. We are always looking for innovative ways to engage with both our players and our partners.
The introduction of new game and tournament mechanics is just one of the many ways we stay ahead of the curve. We believe that these new elements can significantly enhance the gaming experience, creating fresh challenges for our players and making our offerings even more compelling.
But we understand that our partners' time is valuable and that their expertise lies in many different areas. Therefore, we provide a ready-made promo campaign with all necessary graphic materials and an end-to-end product that covers all technical aspects of the process. Our partners don´t need to lift a finger to organise it, ensuring that we've given them an even more streamlined journey within this area.
Moreover, the ever-increasing number of partners integrating Evoplay is a clear testament to the effectiveness of our proactive approach. As we introduce new concepts and experiences, we've seen a tangible increase in interest from both players and partners alike. This heightened interest not only validates our strategies but also motivates us to continually innovate and push boundaries.
We're committed to constantly evolving and staying ahead of the market trends to ensure we offer unparalleled experiences to our users and maintain strong, fruitful relationships with our partners. The gaming industry never stands still, and neither do we at Evoplay.
CasinoBeats: Evoplay has won plenty of awards in recent years for its innovative approach to marketing – can you tell us a bit about your team and what makes them special?
AG: Certainly, our marketing team is the heart of our operations at Evoplay, and their passion for what they do shines through in every campaign and initiative they launch. What makes them special is their unwavering dedication to their work, their creativity, and their deep understanding of our player base and partners.
They possess a knack for marrying the trends and innovations of the gaming world with tried-and-trusted marketing strategies. Their continuous collaboration with our product team ensures that they are always in tune with the latest developments in our slots. This means that they can translate that knowledge into compelling marketing campaigns, offers, and promotions that are highly relevant for our players and casino partners.
Perhaps one of the most defining characteristics of our team is their synergy. Everyone works cohesively, sharing the same vision and objectives. This sense of unity helps us to work smoothly together, enabling us to consistently deliver high-quality and innovative campaigns that resonate with our audience and contribute to our growing list of major awards.
CasinoBeats: Last but not least – for other studios looking to repeat your success, what would you advise providers to do to boost player engagement?
AG: To boost player engagement, it's crucial to understand your players and exceed their expectations. Here are some key tips based on our experiences at Evoplay: First, be client oriented. You need to understand the needs of your player base and tailor what you offer accordingly.
Second, keep up with how the landscape is evolving and ensure that you develop interesting mechanics and fresh content. Third, ensure that you foster regular engagement by organising tournaments that can build a real player community. This also means that you need to understand regional preferences and ensure that you customise your promotions and campaigns accordingly.
Also, it goes without saying that you also need to do everything you can to do the heavy work on behalf of your partners – giving them a ready-made tournament and the assistance they need to make it happen.
So, in short – boosting player engagement requires understanding, innovation and delivering exciting experiences consistently!