Gamification is more than a "nice-to-have", it drives substantial revenues and enables igaming companies to keep up with technological advances, writes Yoel Zuckerberg, Chief Product Officer at Soft2Bet.
Gamification is often mentioned as a feature that suppliers and operators should add to their product portfolio, rarely as a key component of their growth strategy that can drive substantial revenues to their bottom line.
Reasons behind this mode of thinking include:
tech development and integration projects can be costly and time-consuming,
companies may view their products and the revenues they generate as satisfactory, and
not feel the need to call on their tech resources to implement these features.
At Soft2Bet, gamification has been a priority from day one. We call it Motivational Engineering: this focus on engineering is not accidental – technology is one of the main drivers of iGaming growth and we ensure we harness its power for the benefit of our partners.
In addition, a strong argument can be made that the industry's legacy platforms and lack of innovation are causing it to fall behind other mainstream online sectors.
Proof by numbers
So how does Soft2Bet's Motivational Engineering benefit our operators?
Our Betinia brand operates in Denmark and Sweden, two of Europe's most respected igaming markets that demand strong legal and regulatory compliance from their stakeholders.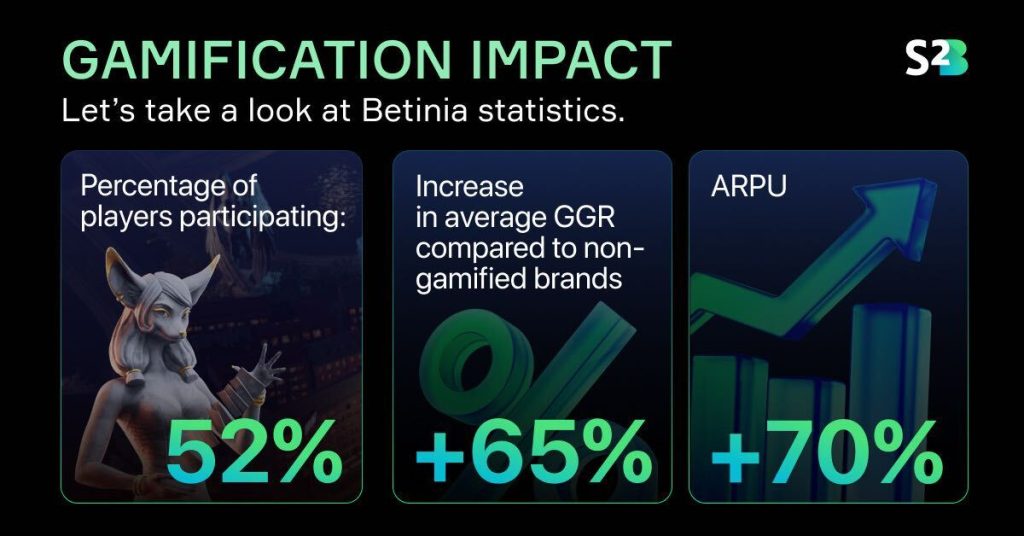 In the past 12 months, Betinia recorded a 65% increase in gross gaming revenues (GGR) when compared to non-gamified brands.
The adoption rate of the features was 60%, showing strong topline engagement from players.
On a more granular level, nearly half of the players who engaged with the features deposited larger amounts and deposit frequency was 30% higher.
Players' lifetime values were also up: average revenue per user (ARPU) was up 70% for 50% of those who engaged with the gamification features and the GGR they generated increased by more than 60% compared to non-participants.
Full integration
One of the reasons our Motivational Engineering technology is successful is because it is fully integrated throughout our Player Account Management system and delivers a comprehensive gamification solution that produces impressive GGR, LTV and ARPU returns for our partners.
This performance is the result of this seamless integration with our in-house platform, which includes our robust back office, dedicated games studio, payment gateway, and solutions tailored for both retail and online environments.
Changing mindsets for the digital age
We often hear that many operators and suppliers, including many of the best-known brands in our sector, rely on tech that is outdated and not up to the requirements of the new digital age.
This means there is a great deal of legacy technology operating in the industry and this materially impacts its ability to deliver the cutting edge solutions that directly impact your bottom line as an operator. So as an iGaming supplier to operators worldwide, how does Soft2Bet address these issues?
Transformational: Soft2Bet turns challenges into opportunities through tech innovation. Our platform is based on agile and modular microservices such as a payment gateway, bonus engine, GSP gateway, enhanced affiliation and marketing tools, CRM tools, and, as a key advantage that is unique to Soft2Bet, our proprietary Motivational Engineering gamification engine, which greatly enhances gameplay and boosts revenues.
Changing a conservative mindset: As an industry, online gambling is actually very conservative and many operators, suppliers, startups or consultants often make the point that this mindset needs to change.
Outdated platforms: Many of the platforms' frameworks are outdated, non-scalable or have serious tech issues such as being monolithic, full of old templates, manual bonusing tools or an inability to integrate new features quickly.
Keeping up with trends: Technology plays such a key role in our sector that we must keep up with B2B and B2C trends, such as new channels, gameplay niches and combining mobile casual gaming with real money gaming.
Rewarding journey: In many ways, gamification is an ongoing journey. It includes implementing a tech revolution that harnesses the capabilities of microservices, AI, web3, casual gaming or new channels. It can take time and resources to complete, but the rewards are significant.
Motivational Engineering in practice
The Soft2Bet products that feature our gamification tools include Bonus Crab, a real time claw machine with toy prizes that can be converted into bonuses and Betinia Stadiums, a highly localised gamification engine that links engaging sports with stadium building in different virtual cities.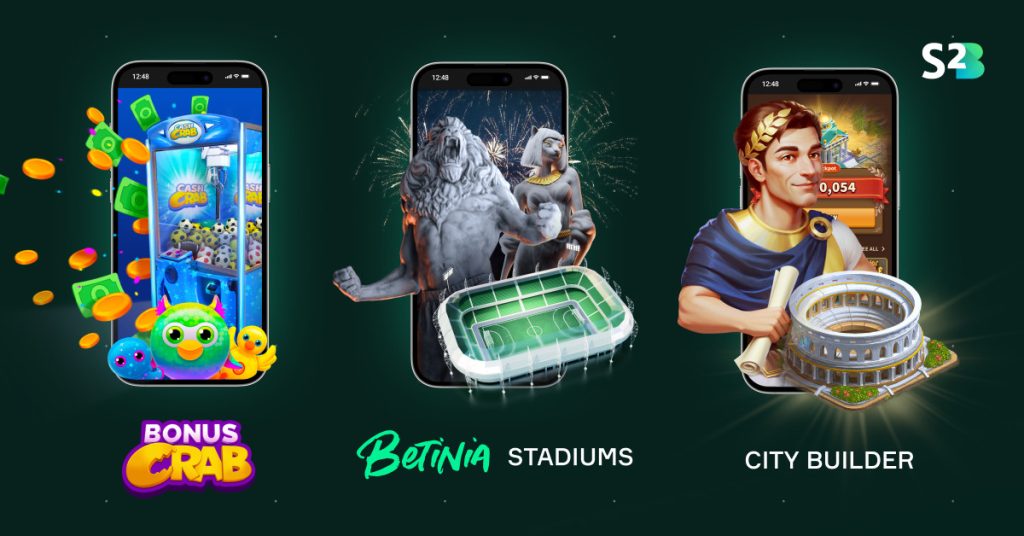 City Builder type of game, our top solution, combines a Roman city builder with an online casino experience, while our latest feature BattleSlot is a next-level gamification engine that combines online slots with a card game and enables players to capture new territories by winning slots battles and receive bonuses for each win.