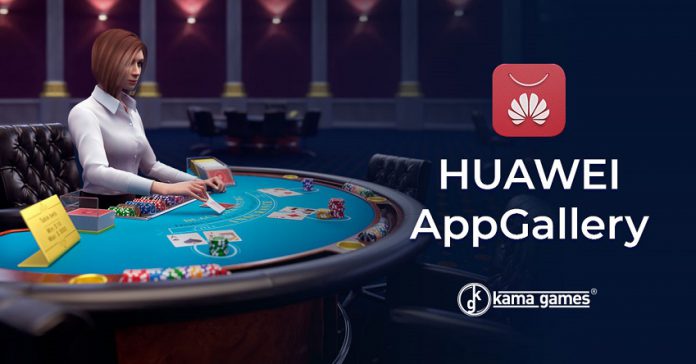 Dublin headquartered social mobile poker operator KamaGames has announced the signing of a fresh partnership, as it teams up with global telecommunications equipment manufacturer Huawei.
Releasing its portfolio of social casino games onto the Huawei App Gallery platform, KamaGames details that its Pokerist, Blackjackist and Roulettist offerings are the first such titles published on its standalone app that's exclusive to the company's devices.
Hailing the partnership with such a huge name, as well as strength of the social casino gaming genre, Andrey Kuznetsov, KamaGames' CEO, explained: "Huawei is one of the fastest growing smartphone manufacturers in the world, and the launch of its own AppGallery is a great opportunity for early adopters, such as KamaGames, to secure a presence in that specific market place.
"It is important to us to be able to provide convenient ways for our players to enjoy our games at any time, on all of the popular platforms.
"We are excited to be among the first to be launched on Huawei AppGallery. Our flagship title Pokerist can be easily adapted to suit a new platform's requirements. We understand the potential of the AppGallery platform and are ready to provide a superior, full-feature product for them.
"Earlier this year we stated that we have at least 530,000 daily active users, and we are expecting to be able to announce a significant increase to that number before the end of the year thanks to, in part, exciting and rewarding partnerships such as this."
Before adding: "This is a great opportunity for both KamaGames and Huawei and we are thrilled with the partnership. KamaGames is the number one social casino developer in Europe with over 100 million users.
"We've gone from strength to strength this year, unveiling new products, expanding our user-base and finding new ways to bring our games to a wider audience.
"Huawei smartphone sales reached 153 million devices in 2017, 20% year on year growth, and the company has an impressive 11% market share.
"We are confident that 2018 will see both company's goals becoming a reality, as Huawei aims to reach over 50 million European customers, and KamaGames continues to bring market leading social casino games to the world's most popular platforms".