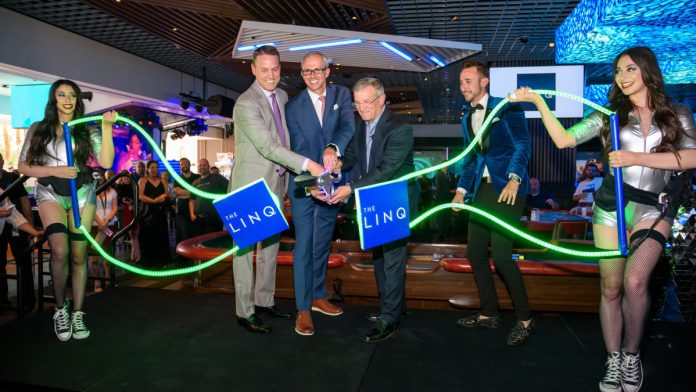 Caesars Entertainment has unveiled the latest enhancement to its Las Vegas operations through Re:Match and The Linq Hotel and Experience.
Continuing the ongoing transformation of the Linq Hotel and Casino, beginning with the opening of its race and sportsbook in October last year, Re:Match combines high-tech casino games, hologram gaming, virtual reality, esports and live entertainment.
Furthermore, the offering also comprises a new integrated and immersive strip-side bar, featuring 27 touch screens that create a cohesive bar top underwater world with sporadic games, that are interactive and responsive.
Following a parade of electric drummers, go bots and hoverboard girls, the new space opened with a ceremonious LED ribbon cutting event, attended by Tony Radio, Caesars' CEO and president, Christian Stuart, Caesars' EVP of gaming and interactive entertainment and Ryan Hammer, general manager of The Linq Hotel and Experience.
Regarding the new opening, Radio stated: "Caesars Entertainment has been at the forefront of gaming and innovation for many years.
"What you see here at The Linq is a diversified selection of experiences curated for a variety of visitors and offers adults new ways to play. I could not be more proud of the hours that went into this project, with gaming, IT, operations and marketing all collaborating to make The Linq the epicenter of socially driven experiences."  
Promising traditional gaming with a twist, Caesars stresses that a variety of slot games will soon feature characters from TV and film, with new picture in picture technology allowing guests to play additional bonus games and enhanced casino lighting system enabling jackpot celebrations, with roulette, crap, blackjack and more to be incorporated.
Hologram Gaming is also set to be installed in the centre of the casino, featuring tic tac toe, rock, paper, scissors and pop 'em, with the company stating it represents "another first-of-its-kind on the Las Vegas Strip, a new gaming experience challenges you to test your luck against a hologram".
Further installations sees six virtual reality bays, a series of digital art installations throughout the casino, dedicated esports gaming destination, arcade games and interactive, multi-stage entertainment.