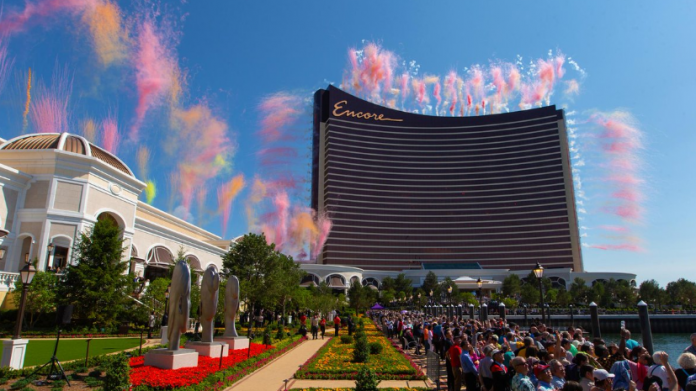 Wynn Resorts has officially hosted the grand opening of its $2.6bn Encore Boston Harbor property, two days after receiving regulatory approval by the Massachusetts Gaming Commission.
Unveiling the interior to the public for the first time, the resort features a 210,000 square foot casino that is divided across two levels at the Everett-based entity.
On the lower, in excess of 3,100 slot machines are accompanied by 143 table games and a central bar, with the second storey containing an 88-table poker room that is flanked by terraces overlooking the gaming floor, offering high-end poker, VIP and private-gaming experiences
Located off the main casino floor, an exclusive gaming area features a total of 53 high limit slot machines, video poker and reel games with betting minimums ranging from $5 to $500, as well as two private high-limit gaming rooms.
Matt Maddox, CEO of Wynn Resorts, said of the opening: "Eight years ago the people of Massachusetts and lawmakers had the foresight to understand that with the passing of the gaming legislation, there could be the opportunity for economic development and the finest integrated resort in the region. I am here to tell you Encore Boston Harbor has achieved those goals."
Further features of Encore Boston Harbor include 15 dining and lounge venues, 671 guest rooms and suites including New England's largest standard hotel rooms, 50,000 square feet of indoor and outdoor event space and six-acre harborwalk, featuring pedestrian and bike paths, picnic park, gazebo, viewing decks and waterfront dining, with a water transportation system designed to bridge the gap between Everett and Boston.
"I want to thank each of you for joining us on this beautiful day, including our first resort guests," commented Bob DeSalvio, president of Encore Boston Harbor. "To the members of Everett United, thank you, you have been with us all the way from the beginning and I couldn't be more pleased that you are here with us today."
Successfully completing test play last week under the close observation of the state regulator, grand opening follows a name change from Wynn Everett, as the company sought to recover from the reputational fall-out of the Steve Wynn sexual misconduct scandal.
Furthermore, an MGC investigation into the suitability of the company to retain its state gaming licence saw the green light given, but fines of $35m and $500,000 issued against both Wynn and its CEO Matt Maddox.
"For the residents of Everett, Everett United and the 86 per cent of residents who took the time on a Saturday to vote yes to a resort in our city, this truly is an amazing day," added Everett Mayor Carlo DeMaria. "Encore Boston Harbor is now a front door to the City of Everett. Thank you to all of the hard-working union members who participated in the construction of this project."