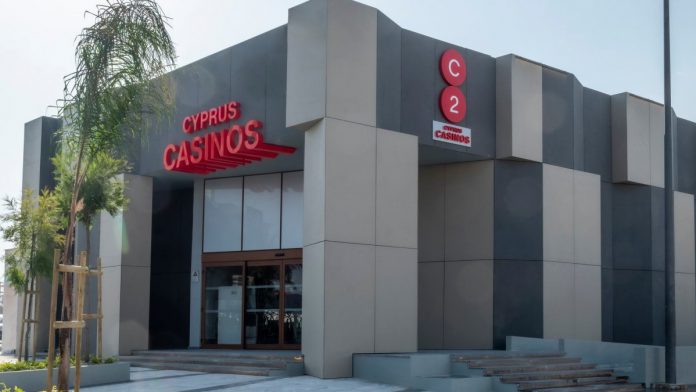 Cyprus Casinos has lauded an important milestone in its relatively short life cycle, as Melco Resorts and Entertainment announces the completion of a 75 per cent equity interest in the City of Dreams Mediterranean project.
Following the recent launch of its third satellite casino on the island, with a fourth and final such property on the horizon, C2 has welcomed its one-millionth visitor.
Entering C2 Limassol, where a temporary casino stands as development continues on the €550m City of Dreams Mediterranean, Oana Georgiana Luca was presented with jewellery worth €5000 and a complimentary dinner.
Last month the Melco Group debuted C2 Ayia Napa, following similar such openings in Nicosia and Larnaca in December last year, with a fourth in Paphos set to join the stable.
The properties are permitted due to an exclusive agreement with the country's government, with the City of Dreams Mediterranean scheduled to be open in 2021 in Limassol, where the temporary property has been in operation for over a year.
Craig Ballantyne, property president of City of Dreams Mediterranean and Cyprus Casinos, commented: "Following the recent launch of our third satellite casino C2 Ayia Napa and the upcoming launch of C2 Paphos, Cyprus Casinos will attract even more visitors from Cyprus and abroad and enhance the entertainment offerings in those cities. 
"At the same time, we believe that when City of Dreams Mediterranean opens in 2021, the integrated casino resort will offer a wide range of attractions and entertainment options beyond gaming, which will enhance Cyprus' regional and global position as an important entertainment and tourist destination,".
Melco Resorts and Entertainment recently confirmed a previously announced deal to secure a 75 per cent equity interest in City of Dreams Mediterranean, after acquiring all of the ordinary shares of ICR Cyprus Holdings held by its majority shareholder Melco International Development.
ICR Cyprus and its subsidiaries are developing City of Dreams, which is expected to become "the largest and premier integrated destination resort in Europe".
The entity's gaming area is set be installed with 36 tables and 1,200 gaming machines, with the complex also to feature a five-star hotel with luxurious villas and 500 hotel rooms, 11 restaurants and cafeterias, a wellness centre, a sports centre, an extensive pool area with river woods and surf pools, a high-end retail area and an outdoor amphitheatre with extensive green areas.