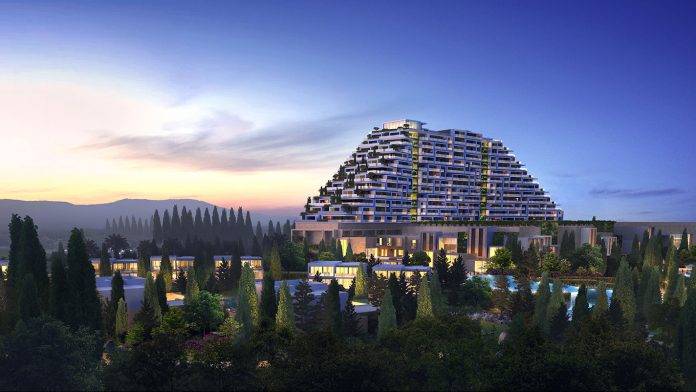 Melco International is anticipating a "very difficult year" for global integrated resort operators, as the firm reaffirms a commitment to global expansion despite the global coronavirus pandemic.
Japan "continues to be a core target" the group emphasises in its full year financial reports for the period ending December 31, 2019, during which revenue increased 10.5 per cent to HK $45bn ($4.69bn) partially attributable to better performance in the mass market table games segment.
Lawrence Ho, group chairman and CEO of Melco International, said of the country's continued efforts to secure one of three integrated resort licenses up for grabs: "Japan continues to be a core target for us. In September last year, we announced our 'Yokohama First' policy as we get our Japan team to plan on bringing to Yokohama the best integrated resort the world has ever seen. 
"In December, we submitted our integrated resort proposal to the Yokohama municipal government and we continue to actively engage with the Yokohama officials to illustrate our plans."
Furthermore, the company is also committed to "helping Cyprus achieve the goal of becoming a year-round business and leisure travel destination," with its City of Dreams Mediterranean, the nation's first integrated resort, proceeding towards completing.
With a one temporary casino and four satellite entities in operation, but currently shutdown due to COVID-19, Melco has also rolled-out a CSR initiative that will support the government's efforts to sustainably preserve and promote Cyprus' culture. 
Ho added: "We remain committed to becoming a global integrated resort operator as we continue to work extensively outside of Asia. Construction work at City of Dreams Mediterranean, Cyprus' first integrated casino resort, is making good progress. It is expected to become Europe's largest premier integrated resort upon completion." 
Reporting a strong financial performance for 2019, during which the company strived to "solidify its position" in the sector, Melco saw profit for the period jump 10.5 per cent to HK $1.8bn (£187.64m) and adjusted EBITDA rise 15.1 per cent to HK $12.5bn (£1.3bn).
Ho explained: "In 2019, we took a big step forward in solidifying our position as a pioneer and innovator in premium travel, leisure and entertainment. Our commitment to excellence, desire to push boundaries and ability to set new standards translated to a strong performance across the board last year. 
"That was despite the challenging operating environment in 2019, with global economic growth threatened by the Sino-US trade war, while the Asian markets were also impacted by the economic slowdown in China and social unrest in Hong Kong in the second half."
Concluding with a slight word of caution for the period ahead: "2020 promises to be a very difficult year for global integrated resort operators. The recent Covid-19 outbreak, along with travel bans, visa restrictions and suspended flights, are poised to hit global tourism and impact the number of visitors to all our integrated resorts. 
"However, we expect our commitment to developing world-class hospitality and entertainment facilities will put us in a good position to bring the best experience to our guests, and will see us through the challenging times in the near future."