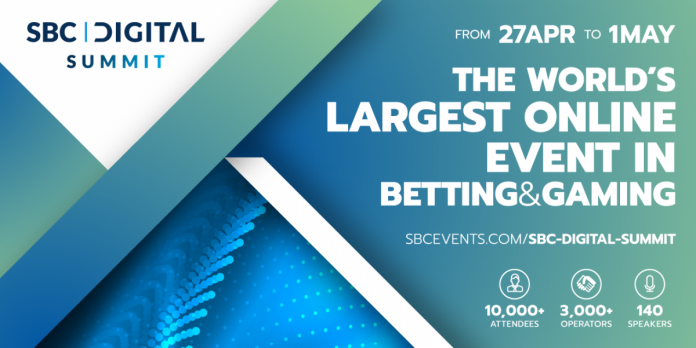 Safer gambling protocols are a key component of the industry's make-up throughout the year, but with global lockdowns in place a heightened sense of awareness has been placed on such initiatives during recent weeks.
Emphasised by the attention placed on such measures during this week's countless financial statements, 'Safer Gambling During Self Isolation' is set to form a key component of next week's Leadership in Gaming track that forms part of the SBC Digital Summit.
Taking place on Tuesday 28 April from 9:15am-3:00pm (UK) as one of seven tracks assessing the key opportunities for the sector, delegates to the gaming sessions will hear from the gaming industry's leading CEOs about how they are dealing with the COVID-19 outbreak and beyond.
Andy Danson, partner at Bird & Bird, is to chair the safer gambling discussion from 11:20am-12:00pm and commented: "The current period of self-isolation is a mentally and financially challenging one for many people, which has understandably led to concerns about enhanced risks of gambling-related harm during this period. 
"However, many of the measures which have been proposed (and in some cases imposed) to date are based on assumptions and a precautionary, rather than evidence-based, approach. This important panel discussion will seek to discover the facts about how player behaviours are changing during self-isolation, and what effective measures are being taken – and should be taken – to ensure safer gambling in these extraordinary times."
As customer behaviour undergoes a drastic change, with players changing product, patterns and potentially affordability, how operators are ensuring that compulsive gambling doesn't also spike in society is to form one crucial part of the session.
Avigail Nir, COO of Mansion Casino, who is to participate in the panel said: "The current environment for player protection has grown increasingly sensitive in times like this. The line between recreational and responsible gambling is getting thinner. 
"As operators, our main responsibility is to be proactive with identifying and helping our customers. Our job is to ensure that our customers don't resort to problematic actions to get the "money for gambling, and not just ensuring that they don't use it with us.
"Our way in Mansion to proactively manage responsible gambling is by targeting the correct people at risk: not only by enhancing our automatic checks but also our manual, human background checks and act fast to assist. Having set the appropriate criteria for monitoring will also make our operation effective while caring."
Adding further expert insight on the issue at hand will be David Williams, director of regulatory affairs at Rank Group, and Martin Lycka, director of regulatory affairs at GVC Holdings.
Williams added: "If the industry believed that the scrutiny it was facing from media and political quarters was severe before the pandemic, COVID-19 made everyone think again. Operators are facing up to the challenges of delivering strategic, well-intentioned plans using a dispersed and often reduced workforce, whilst also rolling out emergency measures, and all set against an expectation in some quarters that we will make fewer mistakes. 
"In spite of this challenging backdrop, the opportunities for the industry to showcase its authenticity and the rewards for doing stuff right are enormous; a host of regulatory issues are rattling down the post-pandemic line and when we are asked to show how we responded when the time came, our ability to answer decisively and with an enlightened view of our role in society could set the tone of the discussion for years to come." 
Lycka concluded: "Online offerings, such as the SBC Digital Summit, are a welcome opportunity to exchange ideas on the latest regulatory and other developments in the industry, including those resulting from the testing times of late. 
"The SBC Digital summit will bring together a lot of talent from across the industry, which I'm certain will demonstrate our resilience and responsibility in response to the crisis."
The SBC Digital Summit will see a multitude of European-based operator leaders set to offer their perspectives, including George Daskalakis (CEO & founder, Stoiximan / Betano), Per Widerstrom (group CEO, Fortuna Entertainment Group), Johnny Hartnett (CEO, Superbet), Sergey Portnov, (CEO, Parimatch), Dominik Beier (CEO, Interwetten), Alexander Stevendahl (CEO, Videoslots), Giovanni Garisi (CEO & founder, Stanleybet), Ariel Reem (CEO, Genesis Group), and Tim Heath (CEO & founder, Coingaming Group). 
The speaker roster is further enhanced by a number of influential figures from online betting and gaming companies operating outside Europe, such as Adam Greenblatt (CEO, Roar Digital), JD Duarte (CEO, Betcris), Julio Cesar Tamayo (CEO, Wplay), Andre Gelfi (CEO, Suaposta), and Gonzalo Perez (CEO, Apuesta Total).
Find full details of the SBC Digital Summit, including information about how to register and discounts available on company group passes at the event's official website: https://sbcevents.com/sbc-digital-summit/.
To enquire about sponsorship opportunities or exhibiting at the event, please contact [email protected].