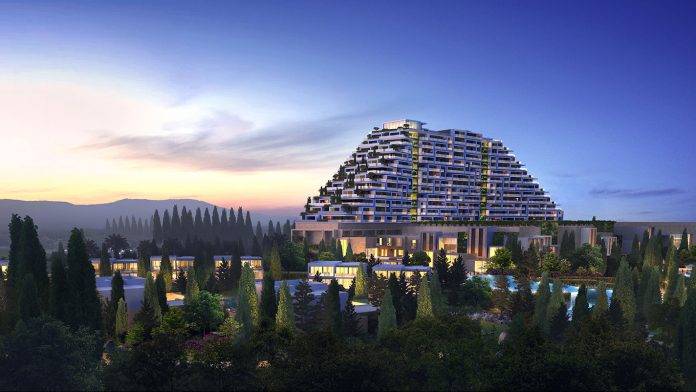 Melco Resorts and Entertainment has maintained commitment to its global development program as the gaming and hospitality operator documents a COVID ravaged second quarter performance.
After seeing closures impact its entire portfolio during the course of the year, the group has also seen a number of projects, including those at Studio City and City of Dreams Mediterranean, gain extended construction time frames. 
Acknowledging that any recovery from the year's disruptions will depend on future developments, such as the duration of travel and visa restrictions and customer sentiment and behaviour, Melco has also reasserted its commitment to securing one of three licenses up for grabs to develop an integrated resort in Japan.
"Turning to Japan, I want to highlight our unwavering commitment to bring to the country the best IR the world has ever seen," said Lawrence Ho, chairman and CEO of Melco. 
"We believe our focus on the Asian premium segment, a portfolio of high quality assets, devotion to craftsmanship, dedication to world-class entertainment offerings, market leading social safeguard systems, established track record of successful partnerships, culture of exceptional guest service, and commitment to employee development puts Melco in a strong position to help Japan realise the vision of developing a world-leading IR with a unique, Japanese touch."
Formulating a number of strategies to preserve liquidity and improve the company's balance sheet during the quarter's pandemic impacts, during the quarter Melco offloaded shares held in Crown Resorts as well as suspending its quarterly dividend program.
Total operating revenue for the quarter plummeted 88 per cent to $175.8m (2019: $1.46bn),  attributable to softer performance in all gaming segments and non-gaming operations as a result of the COVID-19 pandemic, which resulted in a significant decline in inbound tourism.
Operating loss came in at $370.8m, compared to an income of US$207.9m a year earlier, net loss reached $426.8m from an income of $99.2m in 2019 and adjusted EBITDA swung from $447.9m to negative $156.2m.
For the first half of the year revenue dropped 65.3 per cent to $987m from $2.84bn, operating loss reached $520.7m from an income of $399m, net income swung from $221.3m to a loss of $832.6m and adjusted EBITDA was said to be negative $80.9m from $861.5m.
"Lastly, we are excited to see some early signs of returning to normal operations in our integrated resorts," Ho continued. 
"In mid-June, operations at Cyprus Casinos have partially resumed. In addition, commencing from July 15, 2020, certain travellers entering Guangdong from Macau were no longer subject to mandatory quarantine. 
"The issuance of IVS visas was reinstated for Zhuhai residents on August 12, 2020, while the nationwide resumption of IVS visa issuance is expected to commence on September 23, 2020. We are hopeful these announcements signal the eventual resumption of the pre-COVID travel between Macau and Mainland China. 
"While we are encouraged by the recent positive developments, ensuring the safety and well-being of our colleagues, customers and communities in which we operate remains our highest priority."