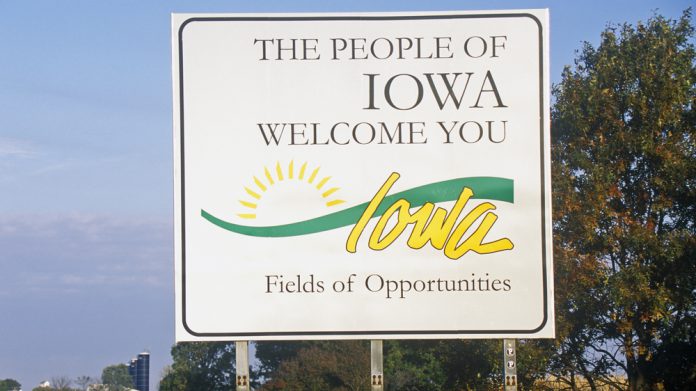 Online and retail sportsbooks in Iowa closed out 2020 at a record pace, collecting over $100m in bets for the first time to take the year's handle towards the $600m mark.
According to official data, December brought a record $104.8m in sports wagers, making Iowa the eighth state to surpass $100m in a single month. That produced $7.5m in net receipts, yielding $508,748 in state taxes.
However, with the state's in-person registration for online sports betting now officially a thing of the past, the Hawkeye State could be primed for a 2021 sports betting boom.
"What Iowa's sports betting industry has achieved, becoming the seventh-largest market in the US, in spite of a significant handicap like in-person registration has been impressive," said Jessica Welman, analyst for PlayIA.com. 
"But with in-person registration now gone, Iowa's sports betting market should take off. The monthly handle should make a jump forward in the coming months."
In a year that saw the cancellation of March Madness, and four months of the college and professional sports calendar wiped out, Iowa bettors wagered $575.2m in 2020. 
That, according to analysts, will likely place the state seventh among legal sports betting jurisdictions in terms of handle. Those bets produced $41.6m in net receipts and $2.9m in state taxes.
With the sports schedule expected to be more stable 2021, and in-person registration gone, the room for growth in the year ahead is significant. Online betting generated $405.2m in bets, or 70.4 per cent of the state's handle in 2020. But in Indiana, where there is no-in-person registration requirement, online betting currently accounts for about 85 per cent of total handle.
PlayIA, which has previously suggested that the region has opened the door to "exponential growth" that should generate billions in annual wagers, projects that within five years Iowa will grow into a market that generates more than $4bn in bets annually.
"Assuming Iowa follows a similar pattern, which it should, online betting will not only represent an even larger share of the sports-betting pie, but it should also grow the overall size of that pie," added Dustin Gouker, analyst for PlayIA.com. "Removing in-person registration is a huge step toward market maturity."