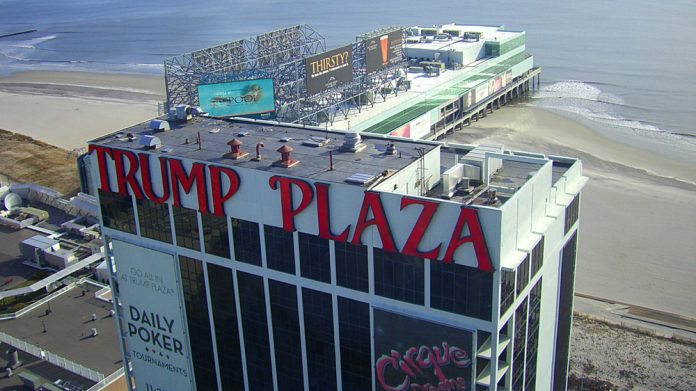 The implosion of Trump Plaza, formerly owned by ex-United States President Donald Trump, on the boardwalk of Atlantic City is scheduled to go ahead tomorrow (Wednesday 17 February) following a series of delays.
Marty Small, Atlantic City's mayor, had announced that the 39-story facility had been scheduled for demolition on January 29, 2021, however, that date was subsequently pushed back in January as it was stated that "this has been a tedious process".
The demolition of the tower means there will be no more Trump-branded properties in Atlantic City.
The former casino resort opened its doors in May, 1984, and was once praised by Trump as potentially being the finest building in Atlantic City, and possibly the country, as well as a crucial component of the region's future successes.
Trump Plaza subsequently closed a little over 30 year later in September 2014, becoming the fourth casino to do so that year following The Atlantic Club, Showboat and Revel.
In 2016, billionaire Carl Icahn took control of the property and said he would demolish the building eventually. Officials had deemed the venue a public safety hazard.
A prior plan of Atlantic City officials to hold an auction for the chance to push the detonator to bring down the building was also nixed after intervention from Icahn. The effort was called off after a cease-and-desist letter was received, with safety concerns cited. 
Icahn did draw the gratitude of Small, however, after pledging to donate $175,000, via his philanthropic arm, to replace money that would have been raised for youth charity the Boys and Girls Club of Atlantic City.
The implosion comes less than a month after Trump bid farewell to Washington, after Joe Biden was officially sworn in as the 46th President of the US on January, 20, 2021.
Earlier this month, Caesars offered "front-row views" of the Trump Plaza demolition via an exclusive package deal to stay at its boardwalk property. 
The casino operator wrote :"With Caesars being the closest property to the actual demolition site, guests will have an exclusive front-row view to witness this historic Atlantic City moment and celebrate a new era to the beloved region".