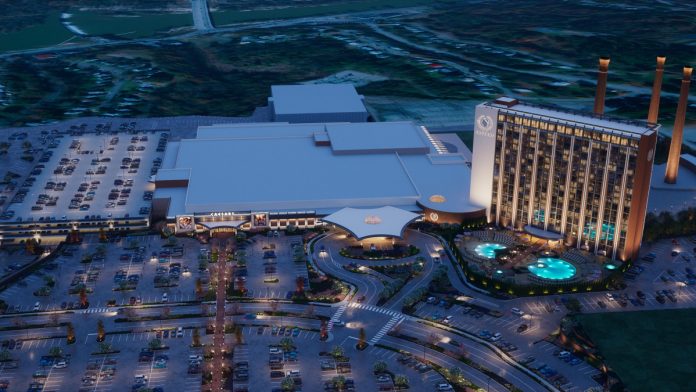 Caesars Entertainment has released the official renderings of its proposed $500m venue in the Virginian city of Danville, which is expected to break ground later in the year.
The company, which says that it has been "hard at work developing plans," was granted approval for its Caesars Virginia development by voters earlier in the year.
Currently there are four proposed land-based casinos in Virginia, with Bristol, Norfolk and Portsmouth joining Danville, operating partners for which will be Hard Rock International, Pamunkey Indian Tribe, and Rush Street Gaming, respectively. Each was approved in local referenda in November 2020.
A fifth proposed casino, in the city of Richmond, is on a different timetable and has not yet been approved by local voters. It is expected to be on the ballot in November 2021.
This recently saw Richmond's casino evaluation panel recommend that the One Casino + Resort move forward as the preferred casino gaming operator, as Urban One, which owns and operates 55 radio stations as well as the TV One network, edged out the Cordish Companies' $600m Live! Casino & Hotel Richmond.
"Over the course of the last two years, myself, city council and staff have taken great care to develop plans, alongside residents and Caesars Entertainment, to create a resort that will positively impact the community through new tax revenue, jobs, partnership opportunities with local businesses and tourism dollars," commented Danville Mayor Alonzo Jones, who also served as a co-chair on the 'Caesars for Danville' campaign committee.
"We are confident that Caesars Virginia will honour the old Dan River Mills' Schoolfield site and become a pillar of pride for Danville and its people."
In addition to a $500m resort casino, which comes in at more than $100m more than initially anticipated in the development agreement, Caesars' Virginia plans include a 500 room hotel; spa; pool; fitness center; 40,000 square feet of meeting and convention space; an entertainment venue that can accommodate up to 2,500 guests; and restaurant and bar concepts.
Its casino will feature more than 1,400 slot machines and table games; a Caesars Sportsbook; and World Series of Poker branded poker room with 25 tables.
Caesars Virginia will break ground in December of 2021 with an anticipated opening in late 2023. It is anticipated that 900 jobs will be created during construction, with 1,300 operational jobs to follow upon opening.
"Caesars Virginia will be an economic driver for the region, both as a tourist and entertainment draw and through the more than a thousand good-paying jobs the resort will create," said Anthony Carano, president and chief operating officer of Caesars.
"The people of Danville have entrusted us to build a world-class resort, and we look forward to proving that trust was well founded with an incredible resort worthy of the iconic Caesars brand."