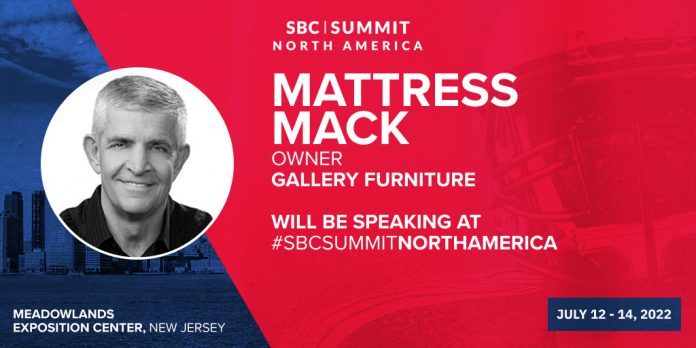 American sports betting enthusiast and Gallery Furniture owner Jim McIngvale, better known as Mattress Mack, will be among the speakers at July's SBC Summit North America conference and tradeshow in New Jersey. 
Mack will sit with ESPN's David Purdum in a special keynote session to discuss the economics and science behind his sports betting strategies. The Houston furniture mogul has made multiple headlines by placing multimillion-dollar wagers on the Super Bowl and other major sporting events and using the bets as a promotional tool for his business.
The entrepreneur also holds the record for what's believed to be the largest legal sports bet in history for placing $5m on the Cincinnati Bengals to beat the Los Angeles Rams in the Super Bowl earlier this year. 
McIngvale's strategy involves placing an enormous bet on one team and offering the customers who made purchases from his stores during the promotion period a full refund if his bet wins. The best part about Mattress Mack's strategy is that losing a bet is not the worst-case scenario. A loss means he does not have to refund his customers, who typically spend millions of dollars during the promotion period at his Gallery Furniture stores.
In this way, even though Mattress Mack had lost the combined $9.5m he bet on the Bengals to win Super Bowl LVI, he still made a profit as he sold $20m worth of furniture during the promotion period that he did not have to give back to his customers.
The widely-publicized sports betting punter, who has learned how to make a profit by placing a losing bet, will also share his perspective on what the modern gambling industry can do to better serve the bettor.
Sue Schneider, VP of Growth and Strategy at SBC, said: "We are thrilled to have the legendary Mattress Mack as a speaker at SBC Summit North America 2022. The industry needs to hear more about what they can do to improve the experience of their bettors.
"I cannot imagine a more suitable person to share some thoughts on this topic. Mack's multi-million dollar bets have made history, and our audience will definitely find his story and innovative business approach fascinating."
McIngvale commented on his participation as a speaker: "This event is a great opportunity to chat with all the big guys providing sports betting in the US. The country has made massive progress by legalising online sports betting in several states, but there is still a long way to go." 
Adding: "I am happy to share my experience and offer advice on what the industry can do to become better."
SBC Summit North America 2022, the leading sports betting and igaming conference and tradeshow, takes place at Meadowlands Exposition Center, New Jersey, July 12-14. 
You can access the full conference agenda and purchase your ticket at the SBC Summit North America official website.