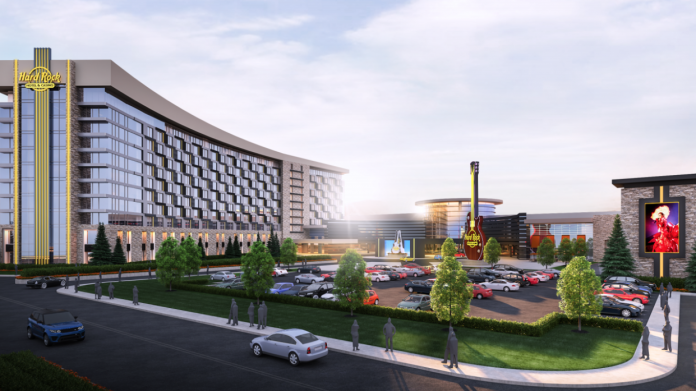 California Governor Gavin Newsom has rubber stamped a gaming compact alongside the Tejon Indian Tribe that could bring the development of a $600m casino complex alongside Hard Rock International.
With Newsom concurring with the US Department of the Interior's determination to allow 320 acres of land to be placed in trust, the compact has moved onto California legislature for ratification.
The casino project, which will be situated on 320 acres of land, is located approximately 25 minutes south of Bakersfield and is expected to directly create over 1,000 construction and 2,000 permanent jobs.
It has previously been suggested that plans for the Hard Rock managed entity would deliver a 165,000 square foot casino, 400 room hotel, 13 restaurants, RV park, entertainment venue, spa fitness centre and convention space.
Octavio Escobedo III, Tejon Indian Tribe Chair, is quoted in local media as stating: "This has been a long but worthwhile journey for the tribe. 
"These decisions were necessary and significant steps toward the development of a tribal homeland for our tribe, which has been landless for more than 150 years."
The Tejon Indian Tribe project, which first aligned with Hard Rock three years ago, passed its first hurdle when a government-to-government agreement was approved by the Kern County Supervisors on July 23, 2019, by a 4-0 vote.
In a concurrence letter, Newsom, in a correspondence addressed to Bryan Newland, Assistant Secretary of Indian Affairs, stated: "Though I am reticent to allow gaming on land that is not currently eligible for gaming, after careful consideration I have decided to concur in the secretarial determination based on the Tribe's unique circumstances. 
"Today, I have also signed a tribal-state class Ill gaming compact that will allow the Tribe to operate gaming on the Mettler Site once it is taken into trust for gaming."
Adding: "In my review, I seriously considered the potential negative impact of the Tribe's gaming establishment on the gaming revenues of other tribes in the area.
"I also considered the project's expansion of tribal gaming to new lands. These issues are of immense concern to me. Based on the unique and exceptional circumstances regarding the history of the Tribe, the Mettler Site's proximity to the Tribe's historic villages and unratified reservations, and the benefits of gaming on the site to the Tribe and the surrounding community, I chose to concur in the Secretarial Determination."