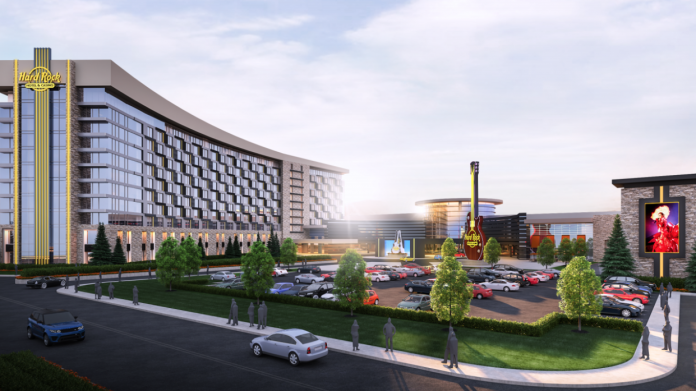 The Tejon Indian Nation has secured a key approval in its bid to construct a $600m Hard Rock branded hotel and casino in close proximity to Bakersfield, California.
Support has been issued to the project by The Kern County Board of Supervisors, reports the Bakersfield Californian, who unanimously voted 4-0 to approve a $218m deal with the tribe concerning public safety services to be provided to the venue over a 20-year period.
A part of this is a one-time payment of $13.3m that will see construction of a new fire station and law enforcement substation close to the resort, with over 20 new positions also set to be created across the police and fire departments.
Expected to come at a cost of $600m and requiring 1,000 construction jobs and creating 2,000 once complete, plans for the Hard Rock International managed entity are to contain a 165,000 square foot casino, 400 room hotel, 13 restaurants, an RV park, entertainment venue, spa fitness centre and convention space.
Prior to federal approval for the project being issued, the US Bureau of Indian Affairs is to develop a draft environmental impact report which is to be used to either issue recommendations to the US Department of Interior, or detail areas of concern.
Octavio Escobedo, Tejon Tribe chairman, is quoted as saying: "This is a truly historic day for the Tejon people. Everyone shares a vision of home ownership. This is our vision for a homeland."
Jim Allen, chairman and CEO of Hard Rock International, stated when details of the project first came to light: "Hard Rock International is excited to partner with the Tejon Indian Tribe, assisting in the achievement of their long-term goals.
"We look forward to building a first-class project with the Tejon Indian Tribe that equals our hotel and casino projects across the world."