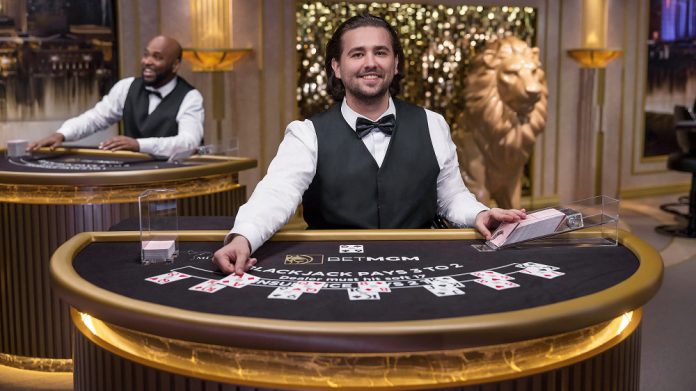 BetMGM has deepened its collaboration with Evolution after unveiling the latest in its North American live dealer studios in the Great Lakes State of Michigan.
This latest grand opening affords players the chance to interact with a live dealer and other players at blackjack, roulette, and baccarat tables of varying price points.
"We're thrilled that BetMGM has again entrusted Evolution with providing a full dedicated studio solution, powered by our technology," said Jeff Millar, Commercial Director North America, Evolution. 
"As we set out to create a unique feel that players would love, the BetMGM studio in Michigan is one of the grandest we've built. We're excited to continue our work within the state of Michigan, while strengthening our ongoing partnership with BetMGM."
This latest studio debut, which follows a similar move made in the Canadian province of Ontario earlier in the year, comes after the BetMGM Casino launched its Michigan live dealer offering in July 2021.
The online casino and sports betting platform asserts that it "immediately became Michigan's igaming leader upon its January 2021 launch" and boasts that it "currently holds 39 per cent market share" in the state.
"This beautiful, new studio enhances BetMGM's live casino experience in Michigan and deepens our partnership with Evolution," noted Oliver Bartlett, Director of Gaming, BetMGM.
"Inspired by the MGM Resorts brand, the studio is adorned with the iconic golden lion and the familiar black and gold BetMGM colour scheme. We're confident that it will amplify our market-leading casino offering in Michigan."
At the recent Canadian Gaming Summit, Greenblatt participated in a fireside chat with broadcaster Ryan Doyle where it was confidently asserted that "we're showing that we can compete and have every intention to do so".
Furthermore, elaboration was also offered on numerous aspects of the gaming brand's journey thus far, as well as delving into detail on the possibility of a legalised Californian market coming to fruition down the line.
"I think the story of BetMGM is I told you so," he began upon being quizzed on the origins of BetMGM. "What we put in place in 2018 made sense on paper, but it was actually bringing it to life and being able to demonstrate that we can compete with pre-existing brands, the established players, that made the journey much more precise and really exciting."