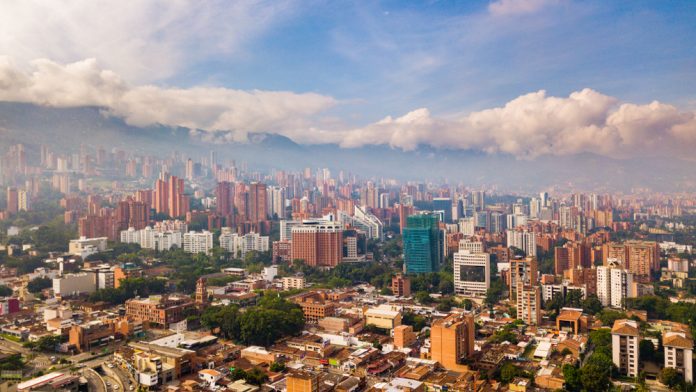 Securing entry into the newly-regulated  Ontario market, internal promotions and completing its transition to a solely B2B operation are just a number of key developments having been undertaken by FSB.
The latest move made by the company has seen it instate a technology hub in the Colombian municipality of Medellín in a bid to cater for its North American and LatAm involvements. 
Following the announcement of this South American expansion, Chris Graham, appointed Head of B2B Marketing in February, spoke with CasinoBeats regarding the group's approach to opening an office in their fourth continent, recruiting in uncharted territory and future plans for other locations.
CasinoBeats: You've just announced the opening of a new technology hub in South America. What made Colombia the location of choice?
Chris Graham: Colombia is a regulated, forward-thinking online gambling jurisdiction with a geographical location that sits in the middle of key markets for FSB across the North American and Latin American regions. 
It is a country with incredible tech talent, and we have been able to dip into this pool of skills and expertise to build out an incredibly strong team of 30+ specialists that will support our technical objectives as we strive to deliver for our growing roster of partners in North America.
The Colombia tech hub is actually located in the municipality of Medellín, and we plan to play an active role in the community there in addition to providing job opportunities for those with technical skills and expertise.
CasinoBeats: Why is it important to have a physical presence in the LatAm region? How does it give you an edge over other technology/platform providers targeting the market?
CG: It is important because it allows us to position FSB as an authentically present platform and technology provider to operators across North America and the LATAM region. Unlike other companies, we are not looking to conquer the market from a faraway European HQ. 
Our Colombia hub, as well as our offices in Nevada and New Jersey, allow FSB to become immersed in these regions, fully understand each market and build strong, long-lasting relationships with operators, suppliers and other stakeholders.
These enterprise spaces allow us to leverage our technical expertise and localise it for the many individual markets that make up North America and the Latin American region. These are incredibly complex online gambling jurisdictions, and it is very challenging to provide outstanding solutions and services to operators without having a physical presence in the region.
Take payments. This is a difficult area for operators to get right with players expecting to be able to deposit and withdraw using trusted providers in each individual market. As a platform provider, we need to add these providers to our payment gateway and the most effective way of knowing which methods are required to foster and grow relationships with these providers is to have boots on the ground.
Again, this cannot be done as quickly and effectively if a platform provider or tech company is reaching out remotely from a European office. Our Colombia Tech Hub is the first in several moves that show just how serious we are about these markets while also allowing us to further differentiate from our rivals.
CasinoBeats: What functions will be undertaken from your Colombia office?
CG: Our Colombia HQ is very much a technology hub and will house technical operations. The main purpose is to assist with our delivery objectives for new and existing partners. As our client portfolio continues to deepen in the regions, it's essential we continue to support their ambitions across platform, product and content to deliver a winning experience. 
FSB is a provider of complex, sophisticated technical solutions so our brief is to collaborate with our partners to allow them to carefully curate the product, functionality and feature mix that ensures they exceed market and player expectations and go live with the exact proposition they require.
CasinoBeats: Have you onboarded local talent or have you brought in talent from other markets? Why have you taken this approach?
CG: Our Colombia hub will be directed by our Global Head of Delivery, Ken Paterson (major experience in leadership CEA role at GVC) with the rest of the team having been recruited locally. 
We looked at several locations for this tech hub but having done our due diligence and researched each potential location thoroughly, Colombia stood out as a country that was technologically advanced and had a large pool of highly skilled, experienced and knowledgeable people that we could build a team from.
It was important for us to onboard local talent as this is the only way to deliver the authenticity that I touched on earlier. In short, local talent and expertise are what allow us to deliver true platform and product localisation to our partners.
CasinoBeats: How will you share knowledge between your other tech hubs and your Colombia office, and vice versa?
CG: Knowledge sharing is baked into the culture of FSB. Sharing ideas, learnings and experiences is encouraged at all times and our tech teams work closely together no matter where they are based around the world. 
We see collaboration (internal and external) as something of a superpower; it allows us to maximise each individual within the organisation so that our platform, technologies, solutions and services are the absolute best that they can be. This is achieved through a cohesive approach to communication as well as things like engineering clubs, culture days, twice a year office visits and regular remote hangouts.
Of course, this will apply to our Colombia Tech Hub, and a number of the team will visit our international headquarters in London later this autumn.
CasinoBeats: What does the opening of your Colombia tech hub say about FSB's plans for the wider LatAm market?
CG: It marks our arrival as a truly global company. We now have offices across four different continents from which we serve a growing number of tier-one operator clients. 
As well as this new Colombia space, we have just opened the doors to a new tech centre focused on European and Rest Of The World delivery in Glasgow. This shows our commitment to being a truly international platform and technology provider, but one that delivers unrivalled levels of localisation due to its points of presence in key markets around the world.
Ultimately, this is why our operator customers are best placed to launch successful, sustainable gambling brands in regulated markets around the world.