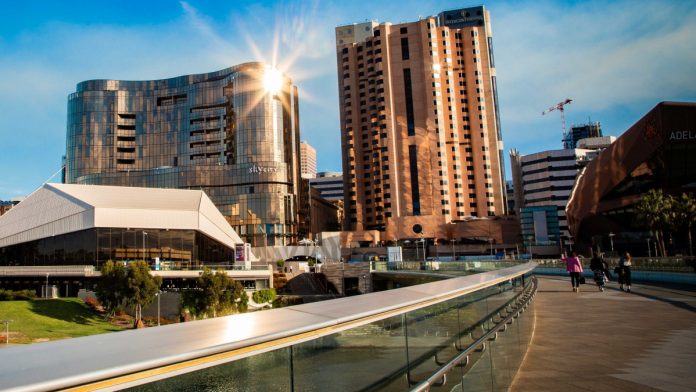 SkyCity Entertainment Group has warned that any regulatory action in Adelaide could have "a significant financial and reputational impact" on the company, as a pair of investigations proceed.
Amid the much publicised investigations into fellow entities Star Entertainment and Crown Resorts, the New Zealand-based SkyCity has stressed a "critical focus" of ensuring the provision of a "safe and responsible experience and environments for our customers".
"We have made positive progress over the last financial year in uplifting our anti-money laundering and host responsibility practices and continue to prioritise our focus in these areas on an ongoing basis," said Julian Cook, SkyCity Chair.
"There is a large programme of work underway in Adelaide to uplift these processes…where appropriate we are deploying enhancements across the group."
Making the comments alongside a trading update, which also saw Cook note that "the last few years have been difficult," SkyCity noted that it has responded "to a significant number of questions and information requests" in each inquiry.
In June 2021, SkyCity, alongside the aforementioned Australia-based group's, were notified of "potential serious non-compliance" by Australia's anti-money laundering agency.
This was followed up in July of this year, when South Australia's Liquor and Gambling regulator cited a "number of the matters raised to date" that it says highlighted "broader systemic issues within the casino industry," upon launching an independent review of SkyCity Adelaide's operations.
"As noted in our 2022 annual report, AUSTRAC has not filed proceedings against SkyCity Adelaide to date, or indicated whether any enforcement action will occur," Cook continued.
"However, given that AUSTRAC's enforcement investigation remains ongoing, and we have identified certain areas where enhancements to the Adelaide anti-money laundering and counter-terrorism financing programme are required or appropriate, there is a possibility that AUSTRAC could bring an enforcement action against SkyCity Adelaide. 
"Responding to these regulatory reviews in Adelaide … remains a key priority for management and board"

Michael Ahearne, CEO of SkyCity
"It is important to note that any such action, and any associated penalties, could have a significant financial and reputational impact on SkyCity."
Adding: "Our purpose statement is to be trusted to create vibrant places for gaming, entertainment and hospitality in New Zealand and Australia. We continue to focus on achieving this purpose by creating value for our stakeholders, remaining committed to responsibility and fostering a culture of compliance."
Taking the mantle, Michael Ahearne, CEO of SkyCity, echoed that the 2022 financial year "was particularly challenging," with group-wide dedication lauded as being "critical in our ability to navigate quite a challenging period".
"We continue to have regular dialogue and cooperate with AUSTRAC as we respond to its enforcement investigation into SkyCity Adelaide," he continued.
"We also continue to fully cooperate with Mr Martin KC's independent review of SkyCity Adelaide, in light of interstate inquiries into various casino operations in Australia.
"Responding to these regulatory reviews in Adelaide and the ongoing enhancement of our AML and host responsibility programmes remains a key priority for management and board."
Furthermore, Glenn Davis, Chair of SkyCity Adelaide, also offered an insight into inquiries that "are very detailed" and have seen "huge amounts of information" be supplied in both cases
"At every step of the way, the SkyCity Group has provided full cooperation, full and complete disclosure and has been completely open and transparent," Davis explained.
"It's been a heavy burden on our people but they continue to work very hard to meet the demands of the inquiry schedules and to do all they can to cooperate fully. We're grateful, and thank them, for their continued hard work and commitment in that regard.
"And whilst we'd all like to have the inquiries behind us and know the answer, it's too early for us to say anything definitively about where these inquiries might go.
"What I can tell you is that in our work to review our practices, given the heightened industry scrutiny, we identified areas where enhancements to our anti-money laundering program are required or appropriate."