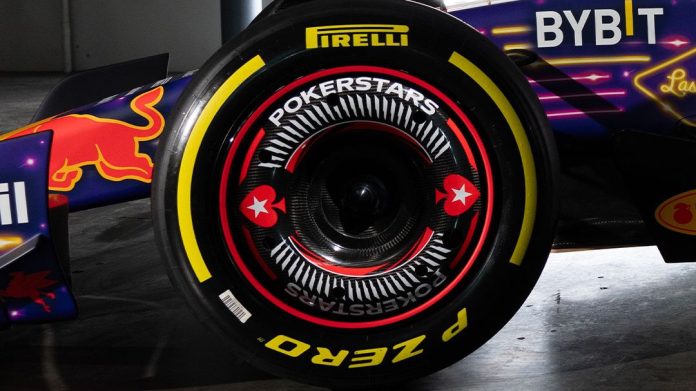 PokerStars has taken to Las Vegas where the Flutter Entertainment brand will become the first entity to become featured on the wheel covers of Oracle Red Bull Racing.
In the latest stage of an ongoing partnership with Formula One team, the PokerStars livery has been designed to encompass the look and feel of a poker chip, and features the company's red spade, in homage to "the home of the game". 
As well as to the fan-designed livery being added to the RB19 in the Nevadan city this weekend, PokerStars has also vowed to offer "a money-can't-buy chance to bag a piece of iconic memorabilia". This will see fans gain the chance to win one of these wheel covers after the race.
PokerStars will offer the opportunity to gain one of the bespoke race-worn wheel covers, signed by three-time World Champion, Max Verstappen and team mate Sergio Perez.
Rebecca McAdam Willetts, Director of Partnerships & Public Relations at PokerStars, said, "We're honoured to be the first to feature on the team's wheels, and such an iconic part of a very special livery for the inaugural race in Las Vegas. 
"Our wheel reveal marks the pinnacle of our efforts this year to excite and reward fans and customers, and we're super excited to physically share such an iconic piece of racing memorabilia with our community."
This becomes the latest Las Vegas activation for PokerStars, with the North American Poker Tour last week held in the city for the first time 12 years to mark the build-up to the race weekend. This featured 1,095 in the main event.
PokerStars also took on the role of 'Games Master' on Oracle Red Bull Racing's Grand Tauro USA this week, with the cross-country road trip seeing a convoy of supercars leaving California on Sunday, bound for Las Vegas.
"We've truly brought our two worlds together to create two weeks of entertainment for poker fans and F1 fans alike," added McAdam Willetts.
"From our NAPT, to our sponsorship of Oracle Red Bull Racing's Grand Tauro, to charity poker for fans on race week and incredible VIP experiences, we're seeing through our commitment to deliver unforgettable memories.
"We believe there's no partner in the racing world who can do Vegas like we can, and we're grateful to Oracle Red Bull Racing for allowing us to deliver our vision for the wheel covers and offer fans the chance to get their hands on them."