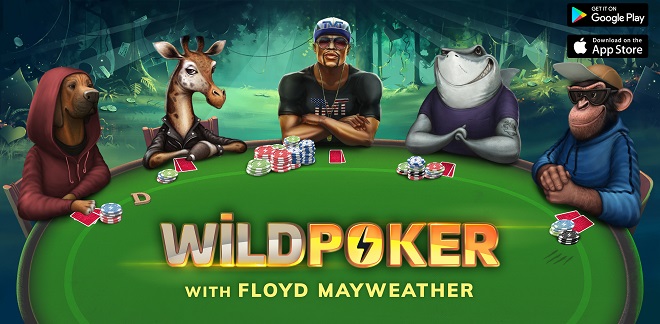 Floyd "Money" Mayweather has announced a partnership with Wild Poker, integrating himself as both a character and presenter within the title.
Wild Poker, a casino adventure game by both Playtrex and Hero Digital Entertainment, offers Texas Hold'em Poker with role playing game (RPG) features.
Daniel Kashmir, CEO of Playtrex, has been talking to Casino Beats about the title, saying: "Wild Poker is both a social casino game and an adventure strategy game. On top of the regular card game, Wild Poker adds elements of real-time decision-making, power-ups, journey, character development and more in order to increase the fun factor.
"The game provides a real story with animals as characters instead of people.  Each animal has a unique power up that gives the character a statistical advantage in the game, so this is much different than any traditional Texas Hold'em Poker game."
Before discussing the benefits of having a such a renowned worldwide figure come on board and endorse Wild Poker: "Starting now, players will be able to play as Floyd himself and unleash his amazing power, which is to earn twice as much on any winning hands and predict the next card.
"This is significant because Floyd is one of the most well-known celebrities in the world, and his fans will love playing Wild Poker with him. So not only does it make the game more fun and exciting, but it will help attract a whole new audience as well."
With plenty more features due to be introduced in the not too distant future, concluding: "We will continue to add great new characters, power-ups, and levels to Wild Poker going forward. There are also lots of cool features we are working on to bring a new level of fun, strategy and adventure to the game, so stay tuned."