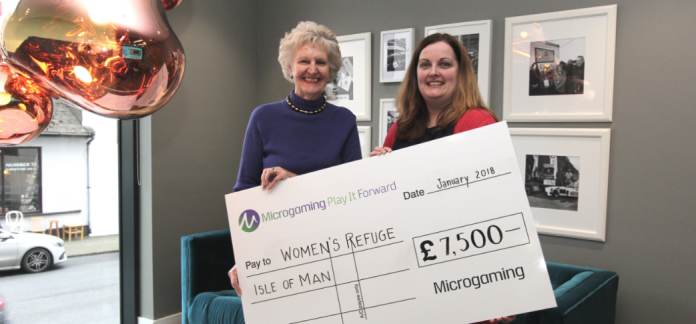 Through its PlayItForward CSR initiative, Microgaming, has once again donated a total of £30,000 to charities across four regions – the company's native Isle of Man; the UK and Europe; Africa; and the rest of the world.
Gift of Giving offers Microgaming customers the chance to vote for one of several charities in their region with the £30,000 split equally across the four winners.
The vote, which took place in December, was Microgaming's fifth annual Gift of Giving campaign, taking the total donated to £150,000.
The charities that received the highest number of votes in each region, for the second year running, were Women's Refuge (Isle of Man), Teenage Cancer Trust (UK and Europe), Save the Rhino International (Africa) and Médecins Sans Frontières (rest of the world).
Women's Refuge Isle of Man provides safe temporary accommodation for vulnerable women and their children suffering from domestic abuse on the island and has supported families for ore than 20 years.
Thelma Lomax from the Women's Refuge, pictured receiving the donation from Microgaming's Kate Moughtin, said: "A big thank you to Microgaming for including Women's Refuge in the Gift of Giving campaign for 2017 and to their customers and partners for voting for our charity.
"The donation ensures our continued operation on the Isle of Man, an absolutely vital service for the island."
Moughtin, senior internal brand manager for Microgaming, added: "Gift of Giving has been running for five very successful years and it is fantastic that Microgaming has donated £150,000 to a number of very worthy causes.
"Thank you to all our customers and contacts who have taken the time to vote. Together we are creating positive change through our initiatives."