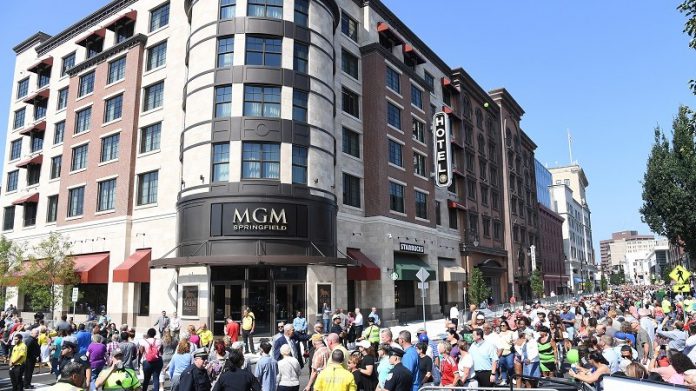 MGM Resorts International has held the grand opening of its Springfield property, with Massachusetts' first resort and casino bringing 3,000 new jobs for the region.
MGM Springfield, located just eighty miles west of the city of Boston, aims to combine the excitement of Las Vegas with the " rich historical context" of its location.
Covering three city blocks in the heart of downtown, the new entity features a 125,000 square-foot casino floor complete with 2,550 slot machines, 120 gaming tables, a poker room and high-limit VIP gaming lounge.
Jim Murren, chairman and CEO of MGM Resorts, explained: "Travellers seeking authentic, local experiences are rediscovering small cities across the US, that fuse small-town charm with the allure of big-city culture.
"With a 375-year legacy as a major crossroads of New England, Springfield is poised to join the likes of such hidden gems, with the development of MGM Springfield leading a fresh wave of rediscovery in The City of Firsts."
Also encompassed within MGM Springfield is a seven-screen luxury regal cinema, ten lane bowling alley within TAP sports bar, a Topgolf swing suite; a serene spa, an expansive public art collection, A-list entertainment and an open-air plaza activated daily with live music, pop-up-art galleries, food trucks, events and much more.
Massachusetts governor Charlie Baker commented: "Our administration is excited to officially welcome MGM to Springfield, and we look forward to the new economic and job opportunities this project will help bring throughout the region.
"This project is a major investment in the workforce and economy of Western Massachusetts, and will also provide support to several important partnerships between education centres and community organisations."
Two days of festivities celebrated the new resorts entry into the state, with Baker joined by a selection on industry guests including congressman Richard Neal, Gaming Commission chairman Stephen Crosby and Springfield mayor Domenic Sarno, who added: "I am proud and thankful of MGM's nearly $1 billion belief, investment and partnership with our city. Here's to continued success."