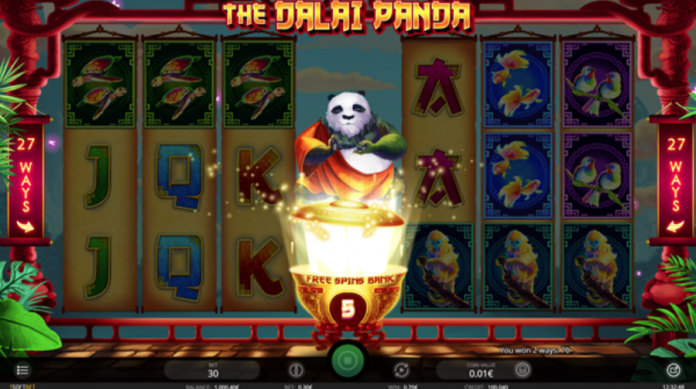 The Dalai Panda is the latest slot release from online and mobile casino software provider iSoftBet.
RELEASE DATE
Out now.
THE PITCH
The game is centred around "the infinitely wise" Dalai Panda, who uses mystical powers to magically manipulate reels if he senses bigger wins are possible, potentially leading to 729 ways to win.
Challenging players to master its central characters mystical ways, iSoftBet lauds its latest release as its "most innovative video slot creation to date".
GAME DETAIL
The Dalai Panda comprises two separate reels that spin simultaneously, giving players double the chance to win. The game's central character guides players along their slot journey, regularly filling the free spins bank at the centre of the screen, and producing a series of game-enhancing bonus features, including extra wilds, extended wins, wild reels and win multipliers.
If three or more Bonus symbols hit the reels, the free spins feature triggers, causing the reels to come together to form an enlarged single reel-set with hundreds of pay-ways.
WHAT THEY SAY
Michael Probert, chief commercial officer at iSoftBet, commented: "The Dalai Panda is one of our most innovative developments to date, and offers a unique and highly enjoyable experience.
"Focusing our game around the wisdom of the Dalai Panda, and having a title character that actively helps players along their user journey, we are sure that this will be one of our biggest hits."
IS A TRAILER AVAILABLE?
Sure is, check out the video below.
CREDENTIALS
iSoftBet has been shortlisted for the 'Game Developer of the Year' award in the CasinoBeats categories at the SBC Awards, taking place at The Artillery Garden at the HAC London, on 4 December.
Set to welcome approximately 700 delegates, the awards recognise the achievements of operators and affiliates, as well as suppliers from across all the major disciplines, including payments, marketing, platform providers and data, and include a smattering of CasinoBeats entries for the very first time.
For more information click HERE.