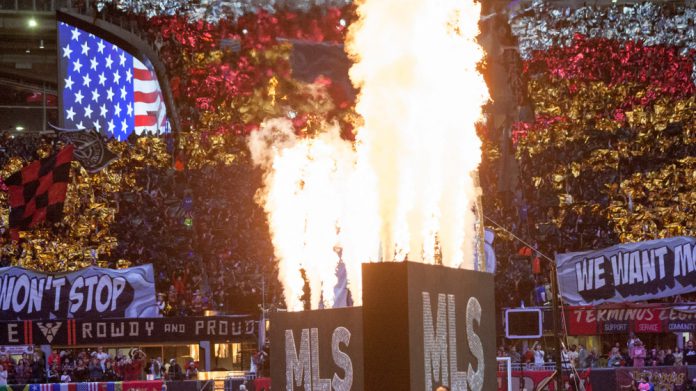 Major League Soccer has released details of its first official sports betting partnership, as MGM Resorts International deepens its footprint amongst US sports leagues, following previously announced link-ups alongside the NBA and MLB.
Lauded as a historic multi-year strategic partnership, MGM Resorts is to become the league's first official gaming partner, with the Roar Digital joint venture, undertaken alongside GVC Holdings, named exclusive official sports betting partner of the MLS.
Under the terms of the agreement, MGM and Roar are to gain access to enhanced MLS data for fans and sports betting customers, television-visible signage for all 100+ nationally broadcast games, unique MLS-themed promotions and sweepstakes utilising MLS prizing, match footage and photography and MLS talent, alongside a host of mutually beneficial hospitality and event opportunities.
Don Garber, MLS commissioner, said of the league's first foray into this field: "Major League Soccer is proud to partner with MGM Resorts, to bring existing and new fans close to our sport in innovative and immersive ways.
"MGM Resorts is a leader in sports betting, and they recognise the progress of our league and the growth of the sport in the United States and Canada.
"Together, we will deliver cutting-edge data and analytics to MLS fans, and fan engagement will be the driving force behind every initiative in our partnership."
The MLS is to also work alongside MGM and Roar to develop an exclusive free to play game for fans, designed to deepen engagement, drive adoption of sports betting in regulated states, and build a base of potential sports bettors in states where regulation is still to be adopted.
Adam Greenblatt, Roar Digital CEO, commented: "This is a fantastic opportunity for Roar Digital and our customers. MLS is one of the fastest growing professional leagues in the world, and has rapidly established a passionate fan-base throughout the United States.
"The partnership positions us to be able to offer our players a unique blend of best-in-class product and customer experience."
Furthermore, MGM and Roar are to also gain activation opportunities at major MLS events, including the MLS All-Star Game and the MLS Cup championship game.
MGM Resorts and Roar will amplify the relationship by promoting a range of the companies' offerings, including Roar's playMGM mobile sports betting app, across league media platforms, with MGM Resorts also set to enjoy an assortment of integrations across MLS social and digital channels, including an exclusive digital content series.
Jim Murren, MGM Resorts chairman and CEO, commented on the organisations latest sporting alignment: "Major League Soccer offers some of the most exciting sports action in the business, and we couldn't be more excited to partner with the league as their official gaming partner.
"Pairing MLS action and real-time data and analytics, with MGM Resorts' best-in-class sports betting operations and innovative technology and mobile offerings, will truly wow soccer fans and showcase our shared commitment to providing a thrilling and immersive sports experience.
"We look forward to building on our growth and continued success as a sports, gaming and entertainment leader."