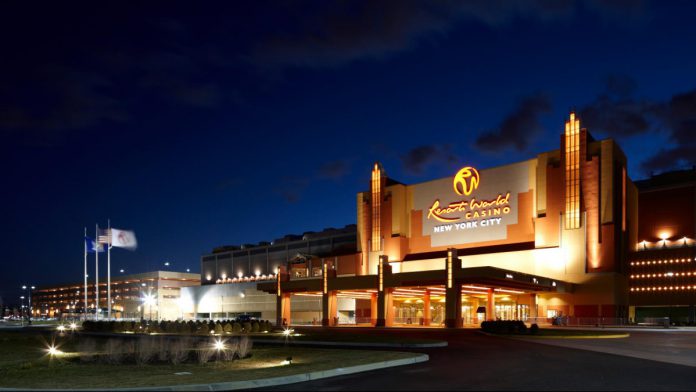 Gaming manufacturer Interblock has deepened its footprint within New York, after agreeing a deal to install further electronic table games in the state.
The firm has expanded its footprint alongside Resorts World Casino New York City, which already held North America's largest ETG footprint within one casino, by increased its product portfolio to reach almost 1,000 seats at the property.
Included as part of the imminent addition are 43 play stations to the RWNY diamond stadium, taking the number of seats within the stadium alone to 52.
This forms part of a new gaming area on the casino floor titled the podium, with the area also adding Interblock's new big six super spin and diamond video blackjack for an additional 38 play stations.
The stadium is equipped with a custom cylindrical double-sided video ring suspended from the ceiling and composed of 32 custom 4K HD LED displays at the centre, two automated card generators, an automated roulette wheel and an automated dice generator.
The video wall displays automated games in play, statistics, and game history, as players are able to play four games from a single station, including roulette, craps, sic bo, multi-hand blackjack and baccarat.
John Connelly, CEO of Interblock, commented: "The recent addition at Resorts World New York has allowed us to provide an unparalleled experience, while creating a gaming environment that doubles as a centrepiece for the property.
"We truly value our partnership with Genting, and look forward to continued success with the installation of a pulse arena being added to the property this summer."
Scott Molina, president of Resorts World Casino New York City, added: "Resorts World Casino New York City places our customers' experience first, and strives to provide them with best in class products bringing our customers true casino gaming experiences.  
"To this end, we've worked with Interblock and led our jurisdiction in bringing these products to our property and to the State. Interblock continues to innovate our product requirements and we're happy to enhance our customers' experiences with these innovations."