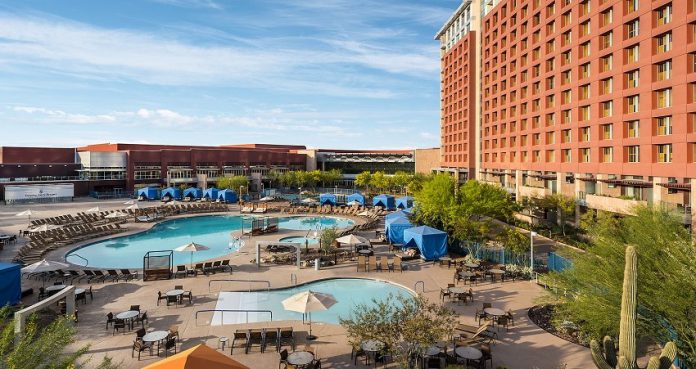 President and CEO of Arizona's Talking Stick Resort, Dennis Leong, has become the first recipient of the Connect to Protect award from the state's InfraGard program.
The award is given to partners who support the organisation's mission of remaining ahead of threats to the country through leadership, agility, and integration.
Leong was recognised by the program for leading the resort's cooperation in an investigation conducted by the Phoenix Police Department. As part of the 2017 investigation, police launched a probe into high crime budget hotels and their owners, eventually discovering efforts to pass money through the casino.
With Leong's leadership, Talking Stick Resort became an integral part of the investigation providing information and surveillance, which is one example of how the relationships and partnerships work together collaboratively.
Historically, multiple investigations have been handled by the operation from the very small to very large, many of which have been closed and adjudicated.
Of the award, Leong stated: "To be recognised with the Connect to Protect award has been a true honour, but it is not my award alone. Efforts by our employees, including our security and surveillance team were integral in any assistance we were able to offer."
The Connect to Protect Award was presented to Leong by the Arizona InfraGard board of directors at the organisation's annual member meeting. Held at Talking Stick Resort, the event marked the first time the award was given along with the visionary award.
Harvey Clark, board member of Arizona InfraGard, added: "The success of the Arizona InfraGard program is reliant on the cooperation of trusted partners. Our relationship with Talking Stick Resort has been a shining example of how fruitful these partnerships can be.
"The work with Casino Arizona and the Talking Stick Resort has led to arrests and possible future indictments, none of which could have happened without Dennis' involvement and support."
Arizona InfraGard was established in 2000 by the National Infrastructure Protection Center inside the FBI headquarters, as a result of a mandate for FBI field offices to develop local InfraGard chapters.