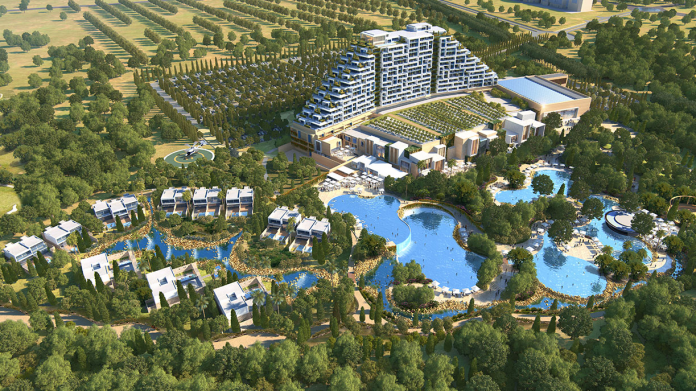 The Melco Group has been honoured by Invest Cyprus, in recognition of the organisation's continued investment in the Mediterranean island.
Forming part of the 'Integrated Casino Resort Cyprus' consortium, alongside Cyprus Phassouri Limited, a member of the CNS Group, the group is responsible for constructing and operating the €550m City of Dreams Mediterranean, due to open in 2021, as well a four satellite casinos spread across the country.
Taking place at the Presidential Palace under the authority Nicos Anastasiades, president of the Republic of Cyprus, the eighth Invest Cyprus International Investment Awards reward foreign commitment to the island, by recognising international investors and businesses in acknowledgement of their "substantial contribution".
Lawrence Ho, Melco chairman and CEO, commented on being presented with the award: "It's a great honour to receive this award on behalf of the entire team at Melco. Cyprus has tremendous economic potential and is now firmly on the radar of international investors. 
"The country's beauty, ideal geographical location, and government's progressive approach towards regulation and governance, means that it's perfectly placed to attract significant inbound investment of the highest calibre."
Adding on the development: "Today marks the first anniversary of us opening our Cyprus C2 Casinos, and we have already seen a huge surge of interest in the island as a premium tourism destination. 
"The opening of City of Dreams Mediterranean will have a huge positive impact on the nation's economy, attracting tens of thousands of luxury tourists, creating hundreds of new jobs, and tackling the tough issue of seasonality head on."
Michalis Michael, chairman of the board of directors of Invest Cyprus, added: "Melco's commitment to Cyprus is particularly valued and recognised, both by the government, and the island's community. The decision by Melco to build Europe's largest integrated casino resort here sends a strong message around the world about the long term potential for this nation.  
"This premium development will significantly boost Cyprus' overall economy, whilst at the same time enhancing our tourist product in the most sustainable, long-term manner. Melco are pioneers in their industry, and this is evident in their support for the communities into which they invest.  
"Melco is partnering with our department of antiquities to support national archaeological heritage management, as they see the preservation and promotion of Cyprus' cultural heritage as a key element to their investment in tourism here."
City of Dreams' gaming area is set be installed with 36 tables and 1,200 gaming machines, with the complex also featuring a five-star hotel with luxurious villas and 500 hotel rooms, 11 restaurants and cafeterias, a wellness centre, a sports centre, an extensive pool area with river woods and surf pools, a high-end retail area and an outdoor amphitheatre with extensive green areas.