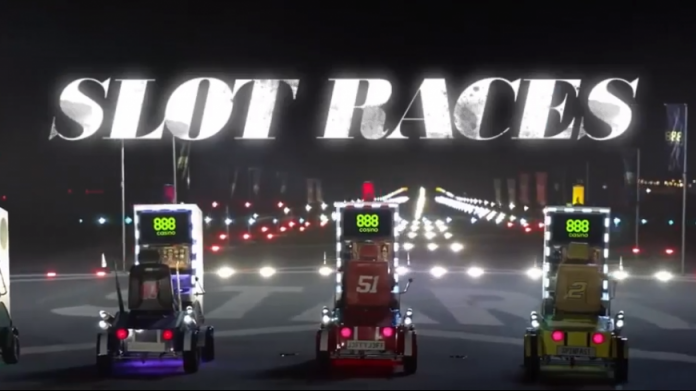 In an environment that is becoming increasingly saturated with slot-based content, the need for an extra dose of innovation has arguably never been more important.
To that end, 888casino has introduced its Slot Races concept, and freelance writer Lyza Hayn attempts to get the bottom of this new introduction.
Get ready to start your engines, as 888casino has recently rolled out a brand-new concept in an attempt to ramp up the excitement for consumers. The new program is Slot Races, and it promises to add even more thrills to an already action-packed online slot experience. But what are the Slot Races, and how do they improve the experience for the average user? Let's look a little closer.
What are the Slot Races, and how do they work?
If you're looking to experience a whole new level of online casino gaming, 888casino's new Slot Races concept could be just the thing.
A high-speed, tournament-style competition between slots players around the world, the concept is a simple one. Players race against a timer to score as many points as possible before it runs out, with the individual who has subsequently scored the most points declared the winner and able to choose between an array of prizes.
You score points by spinning the reels of specific slots games which are part of the races. You'll score a certain amount of points every time you bet the minimum amount or above, and win. How can you score the most points? 888 has set out a few ways. 
Win

: A win paying out 5x your bet is worth five points.

Jumbo Win:

A win paying out between 5x and 15x your bet is worth 50 points.

Monster Win:

A win paying out 15x or more your bet is worth 500 points.

Double Jumbo:

Hitting two Jumbo Wins is worth 100 points.

Super Booster:

If you hit a game's special feature or bonus round, then you'll get 500 points.
Claim Your Share 
It's undeniable that slots are the most popular casino game, and the races at 888casino strives to improve that experience further still. That's partly due to overall demand that slots command, but also thanks to the chance to win even more prizes – but what exactly can you expect to win if you decide to march through this specific marathon?
What makes the Slot Races so competitive is that throughout all players have the chance to win bonuses and rewards. There are several prizes up for grabs, and they are different for every race. You must pay attention to your specific ranking to see if you'll win anything, it isn't only a "first, second, third" deal.
The winner of the overall race will get the grand prize, while those who fall into specific ranking positions will win others. These can come in the form of free plays, free spins, bonus rewards, and even cold, hard cash. There are many prize tiers for players, although there's not necessarily a guarantee of triumphing, there are several ways to win, and they are different for each race.
Via the Slot Races toolbar at the left of the screen, players are able to keep a close eye on their ranking, and can see just how many more points need to be accrued to achieve the next tier.
Getting Started
To join the races registered 888casino users can head over to the race lobby, where all the information is prominently displayed. Select your race of choice, click join and begin once the set time has been reached.
Keep in mind that there is a specific bet amount that you must wager to meet the requirements for the race, and wagers that are less than this amount do not earn any points. There are also a limited number of spins that you can play to reach the maximum points possible. That adds an exciting element of chance, as it isn't only the player with the biggest bankroll who takes the main prize; it's the player who scores the most points within a certain amount of spins and profits the most from the points system.
Ready to spin the reels? Start your engines.