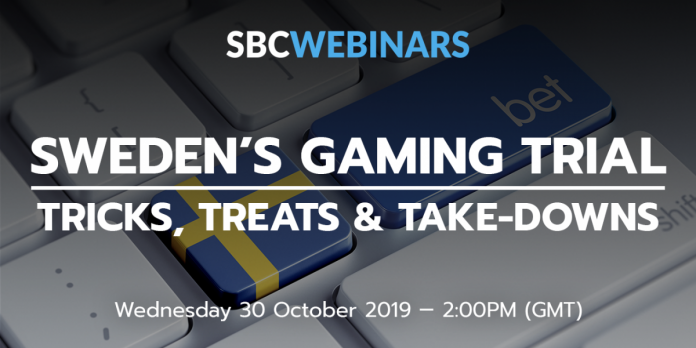 The SBC Webinars series continues on Wednesday 30 October 2019 when CasinoBeats presents Sweden's Gaming Trial: Tricks, Treats & Take-Downs. 
Building on the compelling and much-praised Swede Dreams session at the recent CasinoBeats Summit in London, the webinar will see a panel of Swedish market experts undertake an in-depth examination of the market since re-regulation at the start of the year.
The specially selected panel comprises:
Speakers:
Antonio Zanghi

–  managing director of Maxima Compliance.

Gustaf Hoffstedt

– general secretary of the Swedish Trade Association for Online Gambling.
Moderator:
Ismail Vali

– consultant at iGaming Leaders. 
Stewart Darkin, managing director of CasinoBeats, said: "The Swedish market has been one of the main focuses of igaming industry news over the last 12 months, and operators and regulators around the world are now keen to see what lessons can be learned from the experience there.
"The level of interest in developments was clear at last month's CasinoBeats Summit. Many delegates who attended the session on Sweden told us they wished there had been time for more discussions, so I'm looking forward to the panel reconvening to offer further invaluable insights." 
Register for Sweden's Gaming Trial: Tricks, Treats & Take-Downs: 2pm GMT / 3pm CET 30 October 2019. 
In addition to providing an overview of performance in the 10 months since re-regulation, the panellists will look at how the regulatory model has coped with the tests it has faced.  
Do operators now have a clear view on the Swedish opportunity, or are stakeholders still playing a guessing game as to how the regulator will shape market conditions?
Looking at a wider picture, the experts will also consider what the Swedish experience teaches the industry about future new markets.
CasinoBeats, SBC's specialist casino industry news website, stages the second edition of its CasinoBeats Malta conference and exhibition at the InterContinental Malta in St Julian's on 24-26 March 2020.
The event features an extensive content programme packed with high-level insights into the challenges and opportunities in the online casino sector, along with valuable networking opportunities with 1,500 senior-level attendees from operators, suppliers and regulators. 
Discounted early bird tickets are now available and you can find out more about attending the event at the CasinoBeats Malta website.
Information about sponsorship opportunities and exhibiting at the event can be found here.