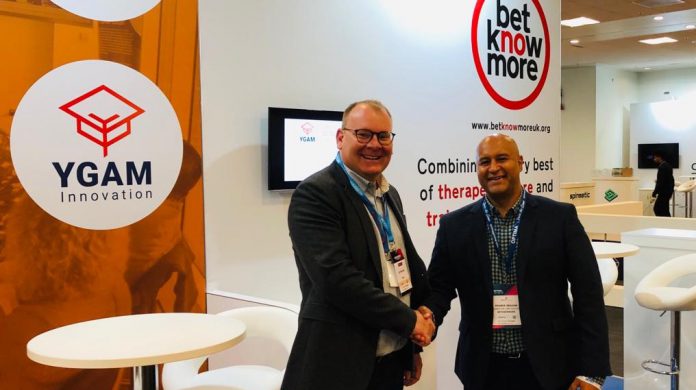 Young Gamers and Gamblers Education Trust and Betknowmore are striving to deliver a "purposeful, authentic and genuine" partnership, after the charity and support service debuted a new link-up.    
The not-for-profit organisations, which both occupied a section of the exhibition floor at last month's CasinoBeats Summit as part of the inaugural Safer Gambling Forum, are to unite their joint expertise.
This is to be done through two new training models that have the aim of reaching more industry professionals, universities, students and clients than ever before.
In the last twelve months, YGAM has more than trebled the number of young and vulnerable people it has delivered its education programme to in over 1,700 schools and youth organisations, reaching more than 180,000 individuals.
Via the roll-out of a new peer education programme it is hoped that three times the number of students will be reached compared to last year, bringing the total to 56,000 and providing purposeful, part-time job opportunities for eight students from partnering universities.
Lee Willows, CEO and founder of YGAM, explained: "I am so excited at the prospect of working even closer with Frankie Graham, a good friend and mentor. Our organisations have been generating purposeful impact for over five-years and we are both working with some incredible businesses in the gambling space. 
"We are looking forward to working with our friends and colleagues in the gambling sector specifically to compliment the current direction of travel by operators to put social responsibility and safer gambling at the heart of their businesses."
The new formal relationship consolidates five years of shared growth and networking with companies and individuals drawn from across the UK and international gambling spectrum.
Frankie Graham, CEO of Betknowmore UK, added: "Lee and I have been friends, critical friends, champions and motivators to each other and the organisations we have developed. 
"We have always asked how we might combine our skills, experience and insight in this space to drive greater social impact. We believe we have found that special sweet spot and it lies in providing the gambling sector with authentic, accredited training." 
Adding: "What makes our training totally unique is 100 per cent of the profits are donated to Betknowmore UK and YGAM to enable our organisations to deliver our social purpose, which we both seek to build upon in 2020."