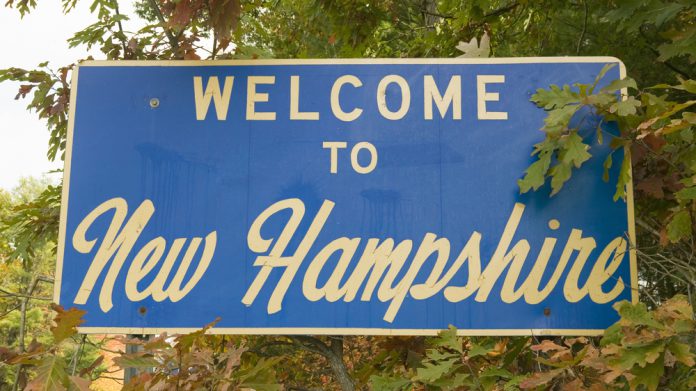 Boston, Massachusetts, headquartered DraftKings has partnered with the New Hampshire Lottery to officially launch mobile and online sports betting in the state.
Becoming the exclusive digital operator for sports betting in The Granite State, individuals over 18 years of age are now permitted to bet on their favourite teams heading into the New Year using DraftKings' digital sportsbook. New Hampshire state laws do not allow wagers to be placed on college teams from the state or college games taking place within state lines.
Governor Chris Sununu placed the Granite State's ceremonial first legal sports wager on the New England Patriots to win the Super Bowl, done so alongside DraftKings co-founder and Chief Revenue Officer, Matt Kalish and former NFL great Rob Ninkovich. 
"Sports betting is the right bet for New Hampshire," stated Sununu. "We moved fast to get this done by partnering with a world-class company to provide a first-rate customer service experience and the state is poised to dominate the market. The launch of sports betting will also benefit our education system – a win for our kids."
DraftKings also states an intention to open an office location in New Hampshire in order to work in closer collaboration with the New Hampshire Lottery, with the firm set to operate as many as 10 retail sportsbook locations throughout the region.
"This is a significant milestone and an exciting moment in the New Hampshire Lottery's evolution, as sports betting represents a major addition to our portfolio of products," said Charlie McIntyre, executive director of the New Hampshire Lottery.
"We are pleased to be working with DraftKings to introduce our players to a completely new way to win in New Hampshire and to continue maximizing revenue for education in the Granite State. All of New Hampshire and New England is hoping the Governor wins his wager!"
DraftKings' contract with the New Hampshire Lottery was approved in late November by the executive council after being selected through a competitive bidding process. As part of the agreement, New Hampshire will receive 50-percent of sports betting revenue, which will support the New Hampshire Lottery's mission to drive funds in support of education.
"As a New England-based company, DraftKings is honored to launch our American-made sportsbook product in New Hampshire for the start of the NFL playoffs," added Matt Kalish, chief revenue officer and co-founder, DraftKings. 
"We want to thank Governor Sununu, Director McIntyre and the New Hampshire Lottery for their commitment to launching safe, legal sports betting as soon as possible and we look forward to working with them closely for many years to come."
Last week DraftKings has entered into a definitive business combination agreement with Diamond Eagle Acquisition Corp, a publicly traded special purpose acquisition company, and SBTech, a turnkey provider of sports betting and gaming technologies, combining the companies into one organisation.