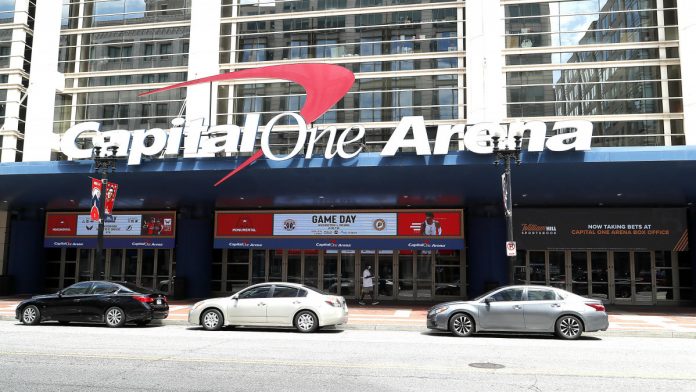 William Hill has introduced its first sports wagering location within Washington, D.C., a move which also marks the first such location within a US sports complex. 
Hosting an official grand opening ceremony, the venue within the Capital One Arena saw first bets placed by season ticket holders of the Washington Capitals, Wizards and Mystics franchises.
The temporary location is situated inside the Capital One Arena box office and invites bettors to access one of seven ticket windows and ten kiosks. 
Design and construction on the permanent William Hill sportsbook are currently underway and is expected to open later in the year, pending regulatory approval. The facility is to house full-service food and beverage offerings, complemented by the firm's sports betting offerings.
"Washington, D.C. is known for its dedicated sports fans, and we're excited to finally bring them a new way to engage with their favourite teams," commented said Joe Asher, CEO of William Hill US. 
"Being the first to open a retail location in a professional sports venue wouldn't be possible without our relationship with Ted Leonsis and his team at Monumental. 
"Our teams are working hard to finalise the permanent sportsbook, restaurant and bar concept we originally envisioned inside the arena."
William Hill is the exclusive sports betting partner of the Washington Capitals, Washington Wizards, Washington Mystics and Monumental Sports & Entertainment, which owns all three sports league franchises as well as Capital One Arena
"We are so pleased to mark this day with three of the most dedicated team fans who propel our players towards excellence on the court or on the ice and for whom Monumental Sports & Entertainment continually innovates," explained Jim Van Stone, president of business operations and chief commercial officer of MSE. 
"And we couldn't be more excited to couple this new dimension of a sports experience with the return to play across all of our leagues. William Hill has been a terrific partner with a reputation for excellence in service and maintaining the highest level of integrity in their process, and we look forward to welcoming many familiar and new visitors to the arena to check it out."