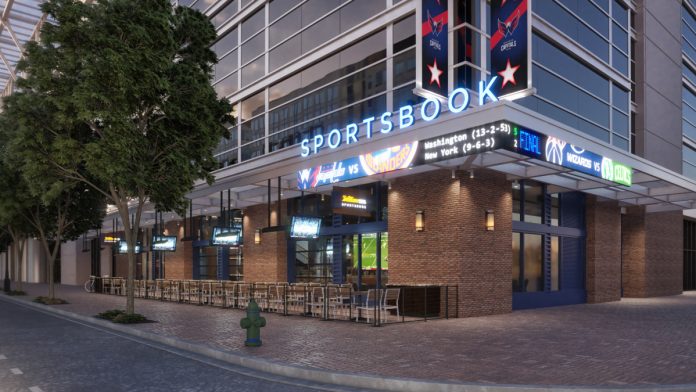 William Hill US has unveiled a first look into the permanent sportsbook to be located in the Capital One Arena, following the launch of a pop-up facility at the sports complex.
In partnership with Monumental Sports and Entertainment, upon receipt of all required regulatory approvals William Hill will begin construction on the permanent space which is expected to open in early 2021.
"The success of the William Hill pop-up sportsbook has exceeded our expectations, and we're excited to create the next phase of the sports fan experience with our permanent location inside the Capital One Arena," said David Grolman, president of retail operations for William Hill US. 
"What we're creating now is a game-day experience that can't be rivaled. Offering a full-service sports book and restaurant, with an ambiance built around the excitement and energy of live sporting events."
Renderings disclosed by the company showcase a multi-level entertainment space that will feature a full-service sportsbook with 12 ticket windows and 10 self-service kiosks, two VIP areas and a large private dining/event space. 
Further features include 1,500 square feet of custom LED that will wrap the entire facility; a jumbotron on the 2nd level, which is a replica of what is located inside the Capital One Arena; and a radio and TV broadcast studio that is visible from the main bar area and to pedestrians.
"We are thrilled to be the first US sports complex to have opened a year-round sportsbook at Capital One Arena, located in the nation's capital," added Jim Van Stone, president of business operations and chief commercial officer for Monumental Sports and Entertainment. 
"The William Hill Sports Book will be a one-of-a-kind, immersive experience not only for Wizards and Capitals fans attending events, but for all sports fans – featuring state-of-the-art audio-visual technologies and premium culinary offerings, which will surely become a premier entertainment destination for Washingtonians and visitors to the Greater Washington region."