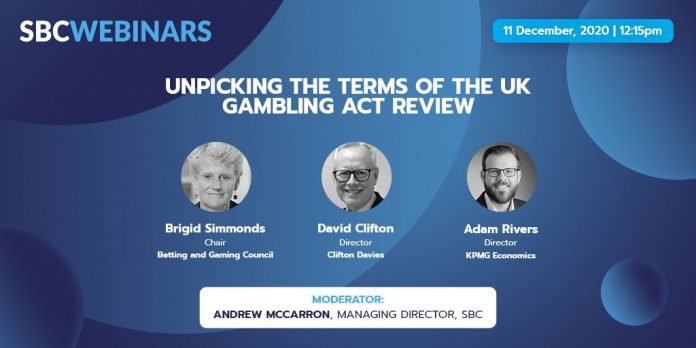 The SBC Webinars series continues on today (Friday 11 December) with Unpicking the Terms of The UK Gambling Act Review, an in-depth examination of the potential impact of the review on the betting and gaming industry. 
This week the UK government announced the start of the long-awaited review into the Gambling Act 2005, a piece of legislation once touted as future proof but now often derided as an analogue Act for the digital age. 
In this SBC Webinar, a group of industry experts will debate whether that characterisation is entirely fair and identify some of the areas in which the current gambling laws fall short of being fit for purpose.
To fulfil the broad scope of the review, the Department for Culture, Media & Sport is preparing to hear evidence on issues including the role of the Gambling Commission, player protection, advertising regulations, the future of the land-based industry, and the prevention of underage gambling. 
The expert panellists will also use this webinar to assess which of those areas have the potential to have the biggest repercussions for the gambling industry and its stakeholders?
The panel for the webinar features:
Brigid Simmonds

– chair, Betting and Gaming Council.

David Clifton

– director, Clifton Davies.

Adam Rivers

– director, KPMG Economics.

Andrew McCarron

– managing director, SBC (moderator).
Register for Unpicking the Terms of The UK Gambling Act Review: Friday 11 December, 12:15pm GMT.
McCarron said: "This review has been expected for some time, but it remains unclear what its consequences might be for the UK gambling industry and the thousands of people who work in it. 
"Our expert panellists will offer some valuable insights into the areas of the legislation that are most in need of updating, the issues that are most likely to trigger changes, and the possible effects on both the online and land-based industry.
Join SBC Webinars on 11 December to learn more about the review of the UK's gambling legislation.