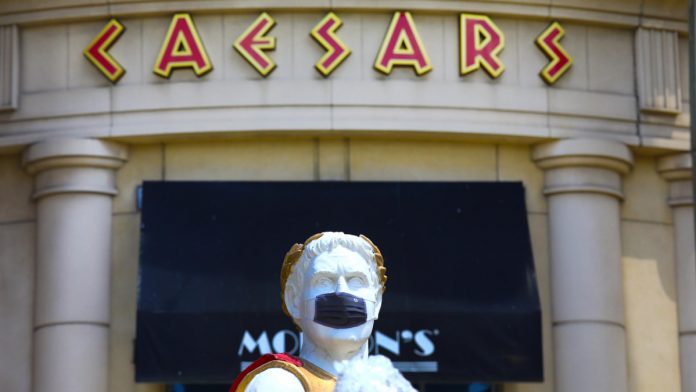 Caesars Entertainment has voiced optimism for 2021 following a review of the group's performance, as COVID-19 restrictions caused a series of further financial declines in the prior year's fourth quarter.
The group says that a strengthening of consumer demand as restrictions have been lifted and demand levels normalise has been particularly evident at its regional, non-destination facilities.
Revenue for the quarter dropped 37.5 per cent to $1.63bn (2019: $2.62bn), with the group's 'Regional' division declining 27.3 per cent to to $1.07bn (2019: $1.48bn), and its 'Managed, International & CIE' down 27.4 per cent to $106m (2019: $146m).
Caesars' Las Vegas properties saw revenue plummet 54.8 per cent to $447m (2019: $989m), with Q4 seeing eight of the group's nine venues in the region open during the entire quarter. Rio All Suite Hotel & Casino resumed operations on December 22.
Fourth quarter net loss for the company reached $555m compared to $13m a year earlier, with adjusted EBITDA down 52.1 per cent to $346m (2019: $722m).
Tom Reeg, chief executive officer of Caesars Entertainment, commented, "Our fourth quarter was negatively impacted by additional COVID-19 restrictions implemented in several states starting in November. 
"Early results in the new year indicate a strengthening of consumer demand as restrictions have been lifted and demand levels normalise, especially at our regional, non-destination properties.
"With vaccinations underway, we are optimistic about the year ahead and look forward to the recovery of travel and tourism in the US and especially Las Vegas."
On a full year basis, Caesars reports a 42.5 per cent decrease in revenue to $6.1bn from $10.61bn, net loss of $1.8bn compared to income of $81m a year earlier, and adjusted EBITDA of $1.08bn, representing a 63.8 per cent fall from $2.99bn.
Across the group's core reporting divisions, Las Vegas saw revenue for the year drop 54.9 per cent to $1.76bn (2019: $3.91bn), regional dipped 35.5 per cent from $6bn to $3.92bn, and managed international and CIE dropped 34.5 per cent to $384m (2019: $586m).