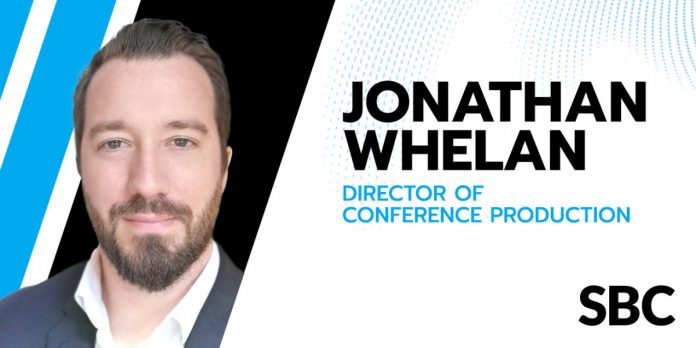 SBC Events has strengthened its conference team with the recruitment of Jonathan Whelan in the newly created role of director of conference production. 
Whelan has 12 years experience in events, beginning his career with Terrapinn where he ran the firm's gambling portfolio, including World Gaming Executive Summit, before relocating for a period in Singapore. 
Reporting to managing director Andrew McCarron, Whelan will oversee the conference production for SBC's packed 2021 schedule and beyond. This includes the challenge of re-mounting physical events after COVID, while continuing the high quality digital events that SBC has developed over the course of the last 12 months. 
Whelan commented: "SBC has done an incredible job during the pandemic, so much so I feel genuinely privileged to be joining the conference team and working with Natalie Lees and Ahmed Ougenoune. 
"Events still face some challenges this year so we must continue to push the boundaries if we are to keep our position at the head of the pack."
McCarron added: "We're very lucky. Jonathan is a great addition to the team and I am confident that his international expertise and knowledge of best practice will make SBC's conferences even better than they are now."
Also joining the conference team is Paul Bunyard, who has been brought in to help conference logistics. Most recently at SG Digital, Bunyard has joined the conference team as it gears up to deliver this year's event portfolio. 
Physical/Hybrid

CasinoBeats Summit – July 13-15

SBC Summit Barcelona- September 21-24
SBC Summit Latinoamerica – October 27-28
Betting on Sports Europe – November 9-11
SBC Summit North America – November 30 – December 2
Digital-only

SBC Digital Africa – March 30-31

SBC Digital Payments – April 29
CasinoBeats Slots Festival – May 11
SBC Digital North America – July 9-10
SBC Digital Italia – July 28-29
CasinoBeats Slots Festival – September 2
SBC Digital CIS – October 14
CasinoBeats Slots Festival – November 18
Another appointment has seen Craig Davies formally appointed as editor of CasinoBeats.com, SBC Media's B2B gaming news sites. Davies has been with SBC for four years, working across its range of news titles and magazine, and has been focusing on the gaming industry for the past three years. 
McCarron commented: "Craig has been news editor on the CasinoBeats website for some time now, so he was the obvious choice for this position. Along with James Ross on SlotBeats.com, he has been instrumental in expanding our coverage of the gaming sector and we have a lot more to come on that front."
Davies added: "I'm really happy to be able to take the reins on SBC's gaming content as we have been developing our international media portfolio in exciting ways over the last couple of years. There's always something exciting to cover on CasinoBeats.com and SlotBeats.com and this appointment marks a new personal challenge for me to advance our coverage across the whole SBC news network."