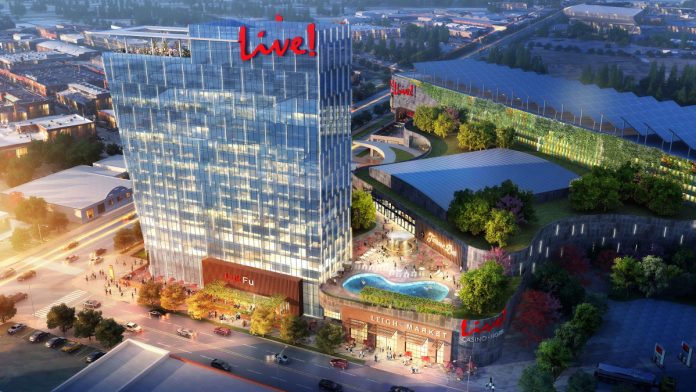 The Cordish Companies has elaborated on its delight, after its casino resort proposal in the Virginian capital city of Richmond was named as one of three left standing.
This week Richmond narrowed its field of bidders for a proposed facility, with Bally's Richmond Casino Resort and One Casino + Resort joining Live! Casino & Hotel Richmond named as the venues left on the table.
Proposals not advancing to the next round of consideration are Golden Nugget, Wind Creek Hospitality, and Pamunkey Indian Tribe & Reservation, due to factors such as lack of site control, concerns about the feasibility of financial projections, lack of organisational experience and/or deficiency of the proposal. 
Cordish Companies, through its PPE Casino Resorts Richmond subsidiary, last month unveiled its vision via the $600m+ Live! Casino & Hotel Richmond.
This, says the company, would create 8,000 new jobs, including 5,000 during construction and 3,000 on a permanent basis, as well as $7.5bn in economic stimulus to the region.
The project includes a 250,000 square foot casino; hotel with approximately 300 guest rooms and 30 suites; spa and fitness facilities; 4,000-capacity live entertainment venue; 40,000 square feet of multi-use event space; and 18 restaurants, bars and entertainment venues. 
Zed Smith, chief operating officer of The Cordish Companies, said of making the shortlist: "We are thrilled the city of Richmond has advanced The Cordish Companies' resort casino proposal for Richmond. Live! Casino & Hotel Richmond will maximize jobs, tax revenues and community impacts for the city. 
"The project will generate over $7.5bn in overall economic benefits, $1.5bn in tax revenue and over $200m in incremental community benefit payments to the city over the first 15 years of the project. 
"These payments will help fund critical community services such as infrastructure, education, healthcare, parks & recreation, workforce development and affordable housing. The Cordish Companies' Live! brand is one of the most recognized casino and entertainment brands in the country.
"Cordish has an unparalleled track record of successfully designing, financing, building and operating large-scale casino entertainment resort destinations in regional markets, including having developed three of the most successful casinos ever developed in the US – Live! Casino & Hotel Maryland, Hard Rock Hotel & Casino Hollywood, FL and Hard Rock Hotel & Casino Tampa, FL. We recently opened two flagship properties in Pennsylvania – Live! Casino Pittsburgh and Live! Casino & Hotel Philadelphia."
The next stage in the process sees community members invited to submit comments on the shortlisted proposals until April 6, 2021, following which a meeting will be held to report on the feedback received.
Negotiations will continue until mid-May, when a recommendation of a preferred operator will be made to the city council. If the preferred operator and site is selected, the council will petition the courts to include a referendum on November 2, 2021.