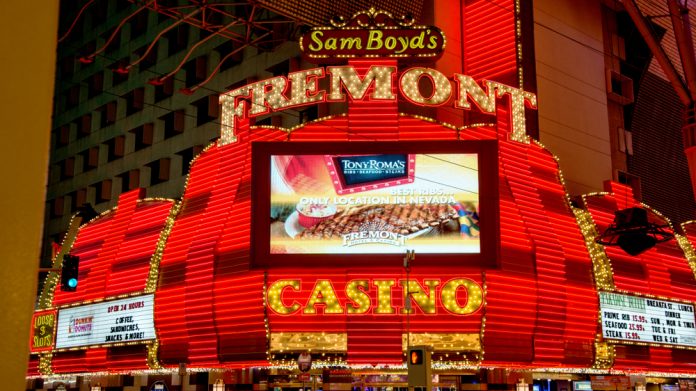 Boyd Gaming has voiced optimism of a maintained uptick of its land-based operations, driven by a continued recovery in travel and ongoing construction, as the operator also looks to advance its online gaming strategy.
Despite acknowledging that no meaningful shift in customer behaviour has been evident from the past three quarters, Boyd does anticipate that "there will be opportunities to further grow our business" through the remainder of the year.
Incremental growth in both gaming and non-gaming revenue is anticipated to occur as the labour market normalises, with such constraints meaning that the firm is "currently unable to accommodate all the demand we have from our core customers".
However, as US-wide travel continues to recover Boyd is anticipating a continued uptick across its retail network, particularly in Las Vegas, as ongoing investments in both retail and online look to position the company for longer-term growth.
This sees construction expected to begin on a land-based facility at Louisiana's Treasure Chest Casino, that will replace the existing riverboat venue, which is expected to be finalised by 2023.
In Las Vegas work has begun to expand the Fremont's casino space and dining option, while in Northern California construction work is continuing on the Sky River Casino.
Boyd boasts a seven-year management agreement with the Wilton Rancheria Tribe to manage the property that Boyd updated is on budget and on schedule to open early this autumn with 2,000 slot machines, 80 table games and 17 food and beverage venues.
Furthermore, in addition to its land-based investment, Boyd is also looking to accelerate its online gaming vision following last month's purchase of Pala Interactive.
"The acquisition of Pala will position us to take a direct approach to the emerging igaming opportunity," stated Keith Smith, President and Chief Executive Officer of Boyd Gaming.
"With our geographic distribution, strong loyalty program and significant database, we are confident in our ability to build a profitable regional online casino business.
"This acquisition will provide us with both the operational and marketing expertise and technology we need to create a successful online casino business."
These updates come as the company reports its performance across the first quarter of 2022, which saw revenue increase 14.3 per cent to $860.7m (2020: $753.3m).
Net income secured a 32.7 per cent uptick to $162.9m (2020: 102.2m), as adjusted EBITDA closed the period at $338.8m, up 15.8 per cent from the $292.6m reported one year earlier.
"In the first quarter of 2022, our disciplined approach to managing the business and strategic focus on our core customer once again produced exceptional results," Smith continued.
"During the quarter, strong performance from our core customers and sustained efficiencies in our marketing and operations contributed to record revenue, EBITDAR and margin performances on a company-wide basis."
During the first quarter of 2022, the group also set first-quarter adjusted EBITDAR records in each of its three core operating segments, as well as Q1 revenue records in both the Las Vegas Locals and Midwest & South segments.
Revenue increases were felt across each division, Las Vegas Locals, Downtown Las Vegas, and Midwest & South closed the quarter at $227.65m (2020: $182.42m), $49.48m (2020: 21.43m), and $583.69 (2020: $549.45m). Adjusted EBITDA is reported as $118.69m (2020: $90.64m), $18.38, (2020: $2.44m), and $583.69m (2020: $549.45m), respectively.
"While January got off to a slow start due to COVID and the Omicron variant, we saw business levels gradually return during the quarter as both case counts and concerns around COVID began to subside," Smith added.
"Overall, customer trends during the first quarter remained consistent with the third and fourth quarters of last year, including rated guest counts, frequency and spend. Unrated play trends also remained consistent with the last several quarters."