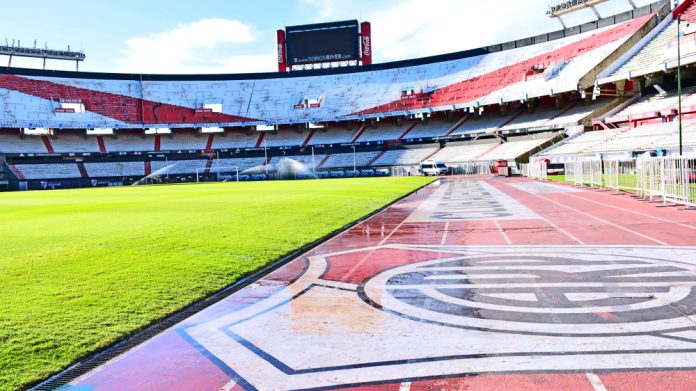 Codere has enhanced its partnership with Argentinian football side Club Atlético River Plate, with the official bookmaker of the club to be featured in a front of shirt capacity.
Building upon a four-year sponsorship agreement that was initially inked in 2021, the gaming firm has subsequently become a main sponsor and will be placed on the front of men's and women's match-day and training shirts.
Jorge Brito, president of Club Atlético River Plate, noted: "Codere is a sponsor that we already know and with whom we have gone through a very important journey. 
"It is a source of pride that such a prestigious international brand continues to trust in River and that it chooses to enlarge the agreement and be our main sponsor.
"We are very happy with this new opportunity that has been generated, so that River and Codere can strengthen each other".
Following the signing of the enhanced alliance, Codere asserted that it will continue promoting its growth plan in Latin America through sponsorships and local activations.
Carlos Sabanza, head of Sponsorships at Codere, commented: "We are very proud to be featured on the front of the Club Atlético River Plate jersey and convinced that in this new stage we will continue to promote our brand together, as well as providing the Argentine public with the best entertainment omnichannel. 
"We are aware of the responsibility that we acquire with our presence on the front of a shirt like River's and for this reason we will put all our efforts into continuing to grow together and achieve our goals.
"At Codere, we are convinced that this will continue to be an even more fruitful alliance and that we have made a winning bet by joining our paths".
Grupo Codere, which began its activity in Argentina in the early 1990s, currently operates thirteen bingo halls and 6,200 slot machines in the province of Buenos Aires.
"Our growth project in Latin America has been consolidating little by little, supported by the football sponsorships of Club Atlético River Plate, Club de Fútbol Monterrey Rayados and Real Madrid CF," added Alberto Telias, Chief Marketing Officer of Codere Online. 
"Strengthening our relationship with River by becoming 'Main Sponsor' is a great step to continue building the Codere brand in the country".