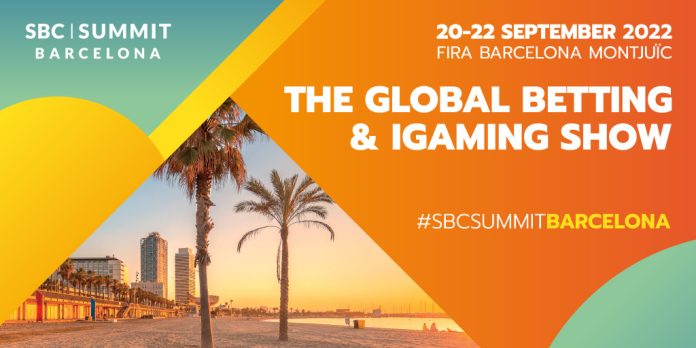 The 2022 edition of the SBC Summit Barcelona exhibition and conference took the industry by storm as attendees gathered to showcase their products, exchange ideas and build new business partnerships at Fira Barcelona Montjuïc between September 20-22.
In addition to a setting an SBC record with approximately 6,000 delegates in attendance over the course of three days, the event made a lasting impression. An overwhelming number of delegates (92.6 per cent) said they were very likely to recommend SBC Summit Barcelona to colleagues and friends in a post-event survey.  
The biggest SBC event to-date featured a 200-booth exhibition, two days of high-level conference content with nearly 400 speakers, and a busy program of evening networking parties.

Rasmus Sojmark, CEO & Founder of SBC said: "I keep receiving overwhelmingly positive feedback and could not be happier with our performance. I would like to thank all our exhibitors, sponsors, speakers and attendees for their support, and I'm thrilled to hear that everyone got what they came for.
"I would also like to take the time to commend my team for putting together the greatest SBC show ever. And it will only get better," Sojmark added.
Survey respondents said that "the organisation was great and everything was smooth, despite being much busier than previous years." Another noted that there was "excellence in every single detail: the exhibition floor, the conferences, and the parties," and you could "feel the hard work behind this event."
Among other findings, it was evident that the respondents found the "volume of attendees impressive" and that the event featured "a significant number of relevant people" and "high-quality attendees." Several respondents mentioned that the exhibition floor felt "very intense and fruitful," while the speakers were "inspiring and entertaining."
The Casino & iGaming Zone was the most-visited (34.6 per cent) among the five designated sections by the survey respondents, followed by Sports Betting (27.6 per cent). The newly-introduced Emerging tech, Blockchain and Metaverse was featured prominently as the zone that "caught people's attention," proving that the industry is displaying huge interest in innovation and is willing to explore the potential of the emerging technologies.
The comprehensive conference agenda was also a big success, as 85.6 per cent of survey respondents noted that they found the content extremely relevant, and 83.3 per cent praised the quality of speakers.
The attendees particularly enjoyed listening to insights from this year's keynote speakers Shay Segev (CEO, DAZN Group), Molly Bloom (entrepreneur, author and legendary organiser of high-stakes VIP poker games featuring Hollywood A-listers), Carsten Koerl (CEO and Founder of Sportradar) and Matthew Ball (metaverse trailblazer, pioneering tech authority and bestselling author of 'The Metaverse: And How it Will Revolutionise Everything'). Other speakers that were mentioned prominently in the post-event survey were Melanie Hainzer (CMO, Rootz) and David Flynn (CEO, Glitnor Group).
Ivana Flynn, SEO Director, ComeOn Group, stated: "SBC delivered more than promised. Big and exciting expo in combination with educational panels and presentations brought the already close igaming community even closer.
"The networking options were out of this world! Meeting partners and suppliers in person is a game changer and SBC created a nice, relaxed yet professional atmosphere to do just that. SBC is a must-attend event for everyone who wants to know, enter, grow and succeed in igaming."

Maarja Pärt, CEO, Yolo Group, noted: "The quality of SBC Summit Barcelona this year exceeded all my expectations with great quality panel discussions, diverse and easy-to-navigate show floor, and of course, the networking events and the awards gala. Truly well done, and can't wait to be part of it in 2023."
Event highlights:
SBC Summit Barcelona saw six start-ups competing for the grand prize valued at €50,000 during the SBC First Pitch competition. Kero Sports were the crowned winners, while Paradox took home the runner-up title.
The SBC Awards at the Majestic Palau National recognised the achievements of thriving operators, affiliates, and suppliers from all the major disciplines. Over 800 guests gathered to celebrate the winners in the 45 featured categories during a lavish ceremony. 
This year's edition was also enriched by a selection of networking events, including the SBC Football Championship featuring a special guest — former football star Gaizka Mendieta, a charity poker tournament for the industry's C-levels hosted by Molly Bloom and the official SBC evening networking parties at some of the most impressive venues in Barcelona.
SBC Summit Barcelona will return to the Fira Barcelona Montjuïc on September 19-21, 2023. Contact [email protected] for information about exhibition and sponsorship opportunities.