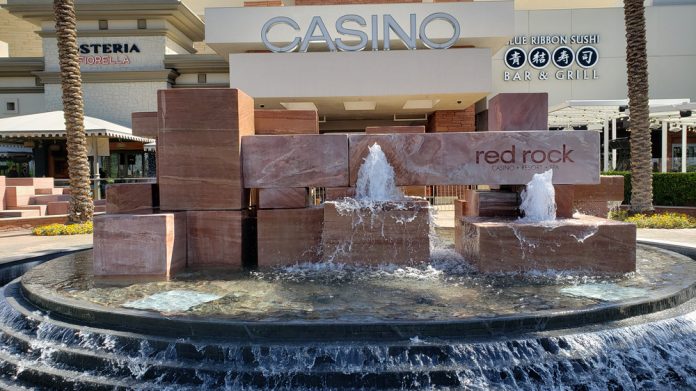 Red Rock Resorts has voiced optimism at the future growth of the company based on "substantially" bolstering its land-based pipeline, after reflecting on a year where "we remained operationally disciplined".
Speaking in a Q4 and FY earnings call, Stephen Cootey, Executive Vice President, Chief Financial Officer and Treasurer, also stressed a focus on "our core local customers as well as continued to grow our regional and out-of-town customer base".
He added: "When comparing our results to last year, we continue to see benefit from strong visitation in our regional and out-of-town customer segments.
"This strength coupled with strong spend per visit across our entire portfolio allowed us to enjoy near record revenue and profits across our gaming segments.
"The trends in the fourth quarter were similar to those we saw in our most recent quarters and have remained consistent so far this year."
During the fourth quarter, revenue for the group increased less than one percentage point year-on-year to $425.5m (2021: $422.4m), with net income down 14.9 per cent to $170.2m (2021: $200.1m). Adjusted EBITDA recorded a 2.5 per cent uptick to $194.4m (2021: $189.7m).
"…we will continue to stay disciplined and focused on executing and investing in our core strategy"
Revenue and AEBITDA from Las Vegas operations through the fourth quarter both dropped less than one per cent to $419.6m (2021: $420.5) and $206.9m (2021: $208.7m).
On a full-year basis, each of revenue, net income and AEBITDA all increased by 2.8 per cent, ten per cent and 0.4 per cent to $1.66bn (2021: $1.62bn), $390.4m (2021: $354.8m) and $743.9m (2021: $741m), respectively.
In Las Vegas, revenue scored a three per cent rise to $1.65bn (2021: $1.6bn), while AEBITDA recorded a 1.6 per cent uptick to $812.8m (2021: $799.8m).
"While 2022 posed certain economic challenges, such as inflation and higher interest rates, our constant focus on our core operations and our actions taken over the past two years have allowed us to generate strong adjusted EBITDA, maintain adjusted EBITDA margin and return over $1.1bn in capital, over $10 per share to our shareholders since we reopened in June of 2020" commented Cootey.
"And while we remain vigilant to macroeconomic trends, we will continue to stay disciplined and focused on executing and investing in our core strategy, including strategically expanding our footprint across the Las Vegas valley and offering new amenities to our guests at existing locations."
On the development front, the Durango development was first up, with it reiterated that "we are extremely excited about this project," noting that the location has "a very favourable demographic profile and no unrestricted gaming competitors within the five-mile radius of the project site."
"The trends in the fourth quarter were similar to those we saw in our most recent quarters"
The project is said to be "progressing nicely," with topping out having been achieved in early October and the structure expected to be fully enclosed by mid-April. It is slated for opening in the fourth quarter of 2023.
"We expect to spend approximately $750m, which includes all design costs, construction, hard and soft costs, pre-open expenses and any financing costs associated with the project, and are currently operating under a guaranteed maximum price contract, which represents approximately 70 per cent of the total project costs," Cootey said.
"As the project stands now, approximately 88 per cent of the project, including the purchase of long-lead FF&E items, has been secured. And as stated in previous calls, the company expects the return profile for this project to be consistent with past greenfield projects within our portfolio."
Back to Vegas, and Red Rock opened the Wildfire Fremont gaming venue is to open in two days, with much expectation heaped on the 21,000 square foot casino.
Elsewhere, the group also provided an update regarding its goal of developing a casino near Madera, California, alongside the North Fork Rancheria of Mono Indians.
The tribe has only one case pending in the California courts after resolving all other litigation, with Cootey having noted that "we do not believe that any decision by a California State Court could deprive North Fork of its ability to game on federal trust land.
"We are confident in the resilience of our business model and our management team's ability to execute our long-term growth strategy"
"We continue to work with the tribe to progress our efforts with respect to this very attractive project, including working toward approval on a management agreement, continuing our work on development and design and having preliminary talks with prospective lending partners. We will continue to provide updates on the next quarter – quarterly earnings call."
Furthermore, the company has also sold approximately 113 acres for $118m in proceeds in 2022, but purchased a trifecta of sites around Las Vegas to have "substantially upgraded our pipeline of land held for development". 
Cootey stated: "With the completion of these transactions, our strategic landholdings amount to over 522 acres, a bulk of which will serve as the foundation for the future growth of the company.
"We are actively looking to divest or under contract on almost 120 acres of land as we continue to reposition and upgrade our real estate portfolios for the next chapter of growth at Station Casinos."
He concluded: "With our current best-in-class assets and locations, coupled with our development pipeline of seven-owned development sites located in the most desirable locations in the Las Vegas Valley, we have an unparalleled growth story that will allow us to double the size of our portfolio and position us to capitalise on the very favourable long-term demographic trends and high barriers to entry that characterise the Las Vegas locals market.
"While the macroeconomic environment through the year was challenging, our disciplined approach to running our business resulted in record high EBITDA and near record high EBITDA margin for 2022.
"As we begin 2023, we will remain vigilant to macroeconomic trends. We are confident in the resilience of our business model and our management team's ability to execute our long-term growth strategy and take a balanced approach to returning capital to our shareholders."