Interim Kindred Group CEO Nils Andén has been reflecting on "an extraordinary quarter in many ways", with growth "in most markets and product segments" reported during Q2.
Amid an ongoing strategic review, which could include potential divestment options, and significant changes to senior management, the company saw revenue through the quarter close at £307.3m, up 29 per cent year-on-year from £238.7m.
This, Andén said, is aligned to a "continued focus on a strong customer offering," with April and May cited as demonstrating a particularly solid showing.
"The ability to maintain the positive business momentum in a time of change is a testament to the strong talent, leadership and commitment across the organisation as well as the proven business model put in place over the years," he noted.
B2C increased 28 per cent to £298.3m (2022: £233.5m), which is primarily aligned to a Dutch market that saw Kindred cease all activity between October 1, 2021, and July 3, 2022.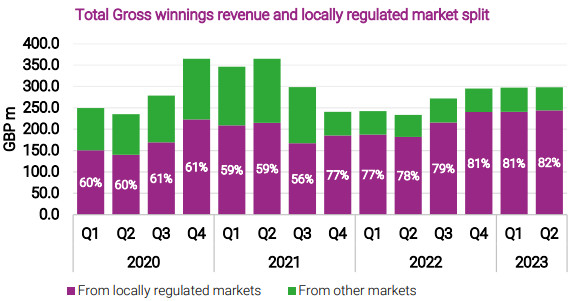 With total revenue for the Netherlands reaching £63.6m, the group confidently suggested that it is "on the path towards market leadership" in the country. Excluding this region, B2C revenue climbed one percentage point.
B2B hit £9m (2022: £5.2m), with Relax Gaming hailed as a "fundamental cornerstone of our product differentiation strategy and continues to show stellar performance".
By product segment, online casino comprised 57 per cent of total group revenue, ahead of sports betting's 39 per cent and poker three per cent. Other games accounted for the remaining one per cent.
"We now look forward to contributing, together with the industry, to the next steps of the Gambling Act review"
On a regional basis, Western Europe remains Kindred's dominant force with revenue up 51 per cent to £180.1m (2022: £119.5m), to occupy 60 per cent of the total, with comparatives distorted once again due to the Netherlands.
The segment continues to be impacted by headwinds in Belgium due to safer gambling measures introduced in the market, however, "good growth" is reported in the UK.
"With 82 per cent of our revenue derived from locally regulated markets, it remains as important as ever to influence a stable, level, and sustainable operating environment," Andén commented.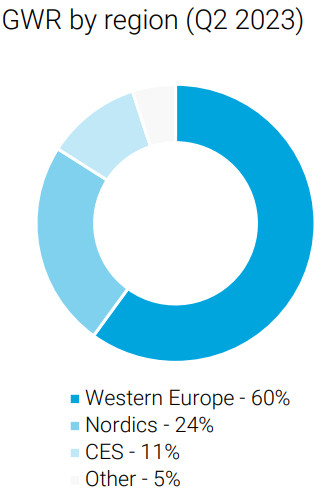 "The UK gambling review white paper was published on April 27 and we support the white paper's ambition to update legislation to develop a dynamic regulatory system fit for the digital age.
"Our continued investment in technological advancements, including a data-led affordability framework, ensures we remain in a good position in terms of the proposals put forward in the white paper.
"We now look forward to contributing, together with the industry, to the next steps of the Gambling Act review. Contributing to a fact-based dialogue with policy makers and regulators is fundamental to ensuring locally regulated markets are sustainable for operators, players, and society." 
The Nordics, accounting for 24 per cent of revenue, decreased four per cent to close Q2 at £71.5m (2022: £74.2m), with ongoing challenges remaining present in Norway and continuing to impact the segment.
Central, eastern and southern Europe rose 26 per cent to £33.1m (2022: £26.2m) due "strong growth" in Romania and Italy, while other regions remained stable at £13.6m.
"Early signs show positive retention and conversion numbers"
Australian revenue dropped 26 per cent due to lower customer activity, but North America increased to £8.4m (2022: £7.2m) as Kindred eyes an additional uptick following the deployment of its proprietary platform in New Jersey and Pennsylvania.
"Early signs show positive retention and conversion numbers, bringing us great confidence in our ability to improve performance with our proprietary platform," Andén said.
Elsewhere through Q2, profit after tax reached £27.7m (2022: £5.8m), with underlying EBITDA up 120 per cent to £55.7m (2022: £25.3m). Active customer numbers increased 17 per cent to 1.56 million (2022: 1.33 million), but this remains flat if excluding the Netherlands.
For the year-to-date, revenue is up 26 per cent to £613.7m (2022: £485.4m), profit after tax closed at £53.3m (2022: £12.2m) and underlying EBITDA increased 111 per cent to £105.1m (2022: £49.8m).
Offering a trading update for the period following Q2, it was noted: "The average daily gross winnings revenue for the group, up to and including July 23, 2023, was £2.93m, one per cent lower (one per cent higher in constant currency) than the daily average for the full third quarter of 2022.
"Sports betting gross winning revenue has been positively impacted by a stronger sports betting margin of 11.6 per cent after free bets for the above period, compared to 9.9 per cent for the full third quarter of 2022."