GeoComply has stressed the importance of legalisation for player protection and tax revenue after releasing a report titled 'From the Sideline to the Mainstream' following the first week of the 2023 NFL season.
Reviewing data collected between September 3-10, the geolocation solutions provider processed 242.3 million transactions during the time frame, up 56 per cent from the corresponding period one year earlier.
Furthermore, week one also saw 1.1 million new player accounts created across US sportsbook customers, which represents an increase of 40 per cent year-on-year.
The data also highlighted that 97 per cent of all online sports wagering transactions were made through a mobile device, with 75 per cent of those coming on iOS.
In addition, the first-quarter touchdown pass from Jared Goff to Amon-Ra St. Brown during game one, when Detroit Lions shocked Kansas City Chiefs, sparked a huge flurry of activity, with the company processing 4,200 transactions per second immediately following the score.
"Consumer awareness around the security and fairness of legal online betting platforms has played a pivotal role in the responsible growth of the industry," commented Anna Sainsbury, GeoComply Co-Founder and CEO.
"While the increase in our transaction volume emphasises the appetite for regulated online sports betting, our data also accentuates an urgent call to action. States without regulated online sports betting should get off the legalisation sidelines and unlock their ability to protect consumers and generate significant tax revenue."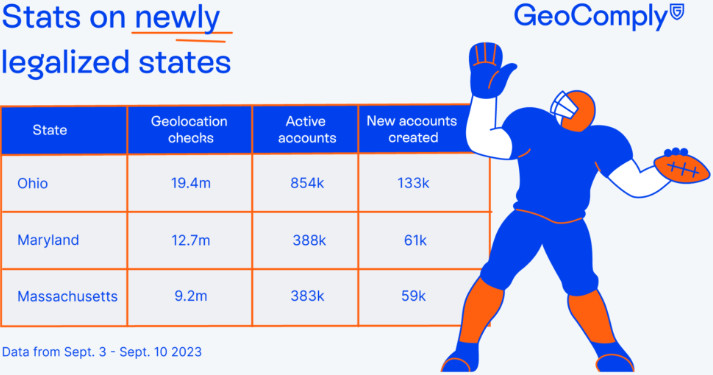 Collectively, the three markets of Ohio, Maryland and Massachusetts, which are experiencing their first NFL season, combined to account for 253,000 of the new accounts as well as a total of 41.3 million geolocation transactions.
Today, approximately 47 per cent of the US population has access to legal and regulated online sports betting, a figure that will be boosted to 51 per cent when North Carolina, Maine, Vermont, and Kentucky launch regulated betting as expected in the coming month
However, with "almost half of the country unprotected", GeoComply has warned of the "significant consumer demand in six states where lawmakers are considering bills to legalise and regulate sports betting next year". These were named as Alabama, Georgia, Minnesota, Missouri, Mississippi, and South Carolina.