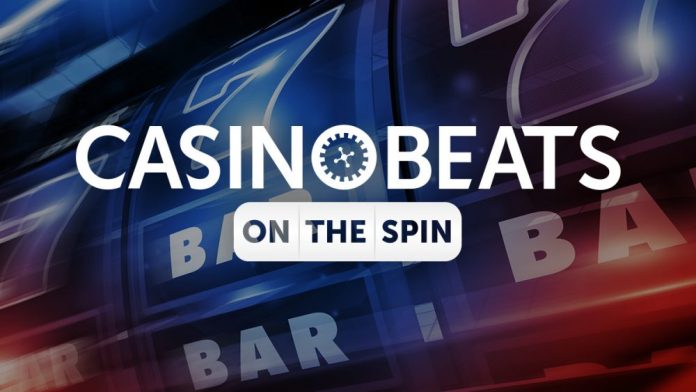 The first full week of November has flown by, and another week's worth of slot releases have hit the CasinoBeats inbox. This week's round-up of what the industry has to offer includes vicious vampires from Hacksaw Gaming, Thunderkick's flaming food fight, Blueprint Gaming's second tribute to a football icon and more.
Immortal Desire – Hacksaw Gaming
Garlic may not be strong enough to evade the dangers of Hacksaw Gaming's latest vampire-ridden release, presenting a 5×4 reel slot with 1,024 ways to win and a maximum win of up to x10,000 the player's bet. The slot is highly volatile with an RTP range of 88.25-96.24 per cent.
Throughout the game, blood reels can appear to enhance base game spins and the free spins game mode. This causes individual reels to become covered in blood, applying multipliers to all symbols within those reels.
Multipliers that can be applied to symbols in the blood reels can be either x2, x3, x4, x5, x10, x25, x50 or x100, and will enhance any wins that occur with symbols in the blood reels.
This feature is more likely to happen in the free spins game mode, with the blood reels remaining sticky on the board for the duration of the game mode.
During those free spins, landing two or three scatters on the same turn will award two or four extra spins respectively.
In the dark awakening feature, activated by four or more scatters, players are taken to an empty reel set in which only blocker symbols, coffins or vampire symbols can appear on the board.
Each reel has a multiplier value displayed above it, starting at x1 and increasing as bonus symbols drop into play in the spaces beneath them.
'Violet' vampire characters will add a value of either one, two, three, four, five, 10, 15, 20, 25, 50, 75 100, 250 or 500 to their respective reels when they drop into play.
Meanwhile, 'Scarlett' vampires will add either one, two, three, four, five, 10, 15, 20, 25, 50, 75 100, 250 or 500 to all reels when they appear on the board.
'Eya' vampires will multiply their respective reel's value by x2, x3, x4, x5, x6, x7, x8, x9 or x10 when they land on the reels, while 'Mina' vampires multiply all reels by one of these values.
Finally, coffin symbols can appear. These symbols will stay sticky on their reel until after the final spin, in which they apply either x2, x3, x4, x5, x6, x7, x8, x9 or x10 to its reel's value.
Hot Potato! – Thunderkick
Thunderkick has served a steaming dish of deep-fried features in its latest mouth-watering release, showcasing a 7×7 reel slot with cluster-pays of five or more adjacent symbols. This food-themed slot is also highly volatile with an RTP of 96.16 per cent.
Mike Collins, Product Owner at Thunderkick, stated: "Grab your chef's hat and step into the kitchen for some blazing fun with Hot Potato! We're excited to introduce our first slot with a cluster pay mechanic – but that's not all.
"We're keen to see how players enjoy features such as exploding wilds, alongside the bonus game where you can cook up some serious wins. This is one hot slot that we can't wait for you to get your hands on!"
Cascading wins occur throughout the game, causing winning symbols to disappear after providing their payouts. When this happens, new symbols will cascade from the top of the reels to drop into their place.
When wild potatoes drop into play, they will explode to remove the nine symbols in and around it. In the 3×3 space it leaves, x2 multipliers will appear. These multipliers will then be applied to any wins that are formed within that 3×3 space after cascades occur.
If new wins are formed in those multiplier cells, then the multipliers will double, enhancing any subsequent wins that occur in the same space. This can lead to multipliers of up to x128.
Additionally, 'hot' scatters can drop into play, triggering the free spins feature if three land on the same spin.
In the free spins game mode, the exploding wild multiplier cells will not reset in between spins, increasing the win potential massively.
Maradona: El Pibe de Oro – Blueprint Gaming
Ex-Napoli, Barcelona and Argentina football hero Diego Maradona is the star of Blueprint Gaming's latest game once again, as the studio released a 5×3 reel slot with 20-paylines and a maximum win of up to x20,000 the player's bet. This football-themed title offers high volatility and an RTP of 96.04 per cent.
Four different football shirts represent the high value symbols, with the dark blue and yellow strip of Boca Juniors, Barcelona's red and blue shirt, Napoli's light blue top and Argentina's blue and white shirt offering between x4 and x200 the chosen bet.
Gold football scatters can also drop into play, triggering 10 free spins if three drop in across reels two, three and four.
Additionally, wild Maradona symbols are included, substituting for all symbols other than the gold scatters. Landing two, three, four or five Maradona symbols on a winning payline will provide respective wins of x20, x40, x60 or x5,000 the player's bet.
While substituting for most symbols in the game, the Maradona wilds will also provide multipliers for winning combinations, depending on the number of wilds that have contributed to those wins.
If one wild contributes to a payline win, it will enhance it by x2, while two, three and four Maradona wilds contributing to one combination will provide multipliers of x4, x6 and x8 respectively.
During the free spins feature, each winning combination that is formed will activate a D10S feature. This causes all winning symbols to stay sticky on the board while the rest of the reels spin again, without taking up turns on the free spins counter.
When new symbols drop in to add to the sticky winning combination, the feature will be repeated. This occurs repeatedly until no more winning symbols are added.
Lure of Fortune – Relax Gaming
Fish, octopuses and eels feature in Relax Gaming's latest underwater slot release, presenting a 5×5 reel grid with cluster-pays and a maximum win of up to x50,000 the player's stake. The slot variable volatility levels of medium, high or extremely high, with an RTP of 96.1 per cent.
Shelley Hannah, Director of Casino Products at Relax Gaming, stated: "Lure of Fortune boasts an innovative mechanic that allows players to select their preferred volatility level, guaranteed to meet a variety of player tastes.
"The title is also packed with both well-known and brand-new features that we're confident will go down a treat with our audiences.
"The fishing theme is popular amongst players around the world, and I am delighted to say we have yet again produced a slot mechanic which stands apart from anything else available in the online market today."
Cascading wins occur throughout the game, causing winning symbols to disappear after providing their payouts to make way for new symbols.
Each win is formed when four or more identical symbols land adjacent to each other, with clusters able to be formed with up to 25 symbols.
Throughout the base game, a multiplier table sits beside the reel set. On random spins, multipliers between x1 and x128 will be depicted next to each paytable symbol, with any wins formed by that symbol being enhanced by its respective multiplier.
Additionally, each symbol that starts the spin with a multiplier of x1 will have its multiplier doubled for each cluster win involving that symbol.
This upgraded multiplier will then be applied to any wins with the same symbol that occurs on the same spin when the cascading symbols fall into place.
In the bonus game mode, players are taken to a special tower-themed board on which five fish are present at the bottom of five empty reels.
Each fish that appears will start with a multiplied bet amount at the bottom of the grid, while a bonus row sits beneath them. On this row, special features or extra fish symbols can appear to enhance the game.
The aim of the game is to get the fish as high up the reels as possible, as multipliers sit beside each row that increase from x1 on the bottom row where the fish start, to x8, seven rows above the fish.
While each game mode starts with three spins that reset with each bonus symbol, every bonus symbol that appears will reset the number of spins to three.
Underneath each fish on the bonus row, hammers can appear, which smash each fish on its respective reel up one row at a time.
Payer symbols are also available, revealing a value and adding it to all fish symbols in its reel. Meanwhile, double symbols can appear, causing each fish symbol in its reel to be multiplied by x2.
Heart spawner symbols can drop into play on the bonus row, copying a fish symbol and its value and pasting it one row below the selected fish.
Furthermore, extra fish symbols can spawn on the bottom row, bringing new opportunities to win.
Next to the five bonus cells on the very bottom row, a special golden pipe can shoot more enchantments into play.
Golden hammers will push all fish symbols up one row, while golden payers will increase the value of all fish on the board.
Golden multipliers will double all fish values on the board, while pearl symbols can also appear, causing the spins counter to start resetting to four instead of three.
Finally, persistent hammers, persistent payers and persistent spawners can appear, repeating each individual feature on all remaining spins. These enhancements will only apply to one reel at a time.
Juiced DoubleMax – Bulletproof Games
Bulletproof Games has blended fruity features with beachside multipliers in its latest YG Masters slot release, showcasing a 5×3 reel slot with 20-paylines that pay from both sides of the board. While using high volatility and an RTP of 96 per cent, the game has a maximum win of x5,899 the player's bet.
Michael Bullock, Product Director at Bulletproof Games, stated: "Combining a colourful cocktail with huge win potential is something that was an extremely enjoyable experience for our team, and Juiced DuoMax utilises some fan-favourite concepts to produce an unforgettable, thirst-quencher of a slot."
For this slot title, each payline will pay for winning combinations that start at both sides of the reel set, doubling the chance of forming payline wins.
Cascading wins occur throughout the game, causing winning symbols to disappear after providing their payout, making way for new symbols to drop in and increase the win potential.
Once 35 cascading wins have occurred in the same game session, the happy hour feature will be activated.
This game mode gives players five free spins on two 5×3 grids. Each side of both grids will have a character sitting at a beach bar beneath it, drinking from a glass with multipliers on it.
As cascading wins occur from each side of the board, the multiplier beneath the side that the wins occurred on will drink from their glass, causing the multiplier on it to increase. This multiplier will then be applied to any subsequent wins that happen on that side of the board.
The multipliers start at x1, building to x2, x4, x8, x12, x18, x25, x50, x75, x100, x200, x500, x1,000 and eventually x2,000.
Players can buy access to several versions of the happy hour feature for a significantly increased bet amount using the game's 'buy bonus' function.
Mark McGinley, Chief Gaming Officer at Yggdrasil, added: "Juiced DuoMax brings a vibrant beach bar to life with an innovative, trackable bonus feature and our supercharged Game Engagement Mechanic packing every squeeze with the biggest wins possible.
"It's the newest creation by Bulletproof Games in our portfolio, and yet another example of them looking to explore diverse and engaging themes with inspiration from every walk of life."